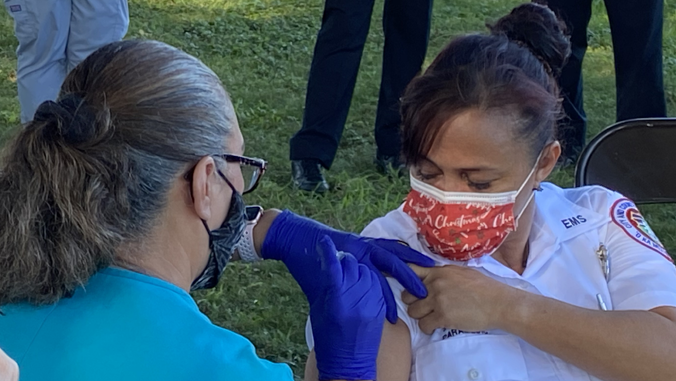 The University of Hawaiʻi is providing up to 1,000 volunteers, facilities and resources from Kauaʻi to Hawaiʻi Island to support the implementation of the State of Hawaiʻi COVID-19 Vaccination Plan. The state's 10-campus public higher education system and the Hawaiʻi Department of Health (DOH) have signed a Memorandum of Agreement that formalizes the significant contribution UH faculty, staff, and students will make in providing the COVID-19 vaccines to the people of Hawaiʻi.
"The University of Hawaiʻi is honored to be a part of this important effort, which builds on the longstanding and strong relationship we have had with the Hawaiʻi Department of Health," said UH President David Lassner. "We all need to work together to bring this devastating pandemic under control."
"Our goal is to safely vaccinate the people of Hawaiʻi as quickly and safely as possible," said DOH Director Elizabeth Char. "This partnership will help us realize this goal. UH has long been an important partner in providing for the health and wellbeing of our community and our state."
1,000 health professionals and students able to serve
UH and the DOH have identified university health professionals, along with their students, who may be able and qualified to assist with the State's vaccination effort. These volunteers are needed to vaccinate hundreds of thousands of Hawaiʻi residents over the months to come. At this time, only students enrolled in health care programs can volunteer, with initial assistance coming from the John A. Burns School of Medicine, UH Hilo Daniel K. Inouye College of Pharmacy and the nursing programs at UH Mānoa, UH Hilo, UH Maui College, Kapiʻolani Community College, Kauaʻi CC and Hawaiʻi CC. UH students and faculty from these health programs will serve as vaccine preparers, vaccinators, monitors for immediate side effects, or in other support roles. Several UH faculty have played leadership roles within the State's response and are assisting in the development of the state vaccination plan.
"The work of the student volunteers will not only contribute to the stateʻs effort to combat the COVID-19 pandemic, it will also provide valuable and unique pandemic response and public health training and education," said Kristine Qureshi, associate dean for research and global health at the UH Mānoa School of Nursing and Dental Hygiene.
UH faculty have already been volunteering since March 2020 to assist the State's COVID-19 response. Many UH faculty and staff who are licensed healthcare professionals, including physicians, nurses and pharmacists, have been frontline health care providers. Other UH faculty have been sharing research, public health, policy, and clinical expertise.
UH campuses also providing equipment, resources and facilities
Upon request by the State or Counties, the university will help provide facilities or equipment to supplement vaccination activities that are being coordinated among numerous agencies including the hospitals and other healthcare facilities. Some UH campuses will serve as closed Point of Distribution (POD) sites where vaccines will be given to persons identified by the Center for Disease Control and Prevention and State in priority order for receiving the COVID-19 vaccine. Operational plans are being developed and refined as the State receives notification about weekly vaccine shipments.
Vaccines for UH employees, vaccine education initiatives
UH volunteers may also have the option to be vaccinated at the POD sites. Many UH direct health care providers have already started to receive the vaccine at their affiliated hospitals. Other members of the UH community will fall into priority populations and may have opportunities to be vaccinated as early as February.
At the request of DOH, the UH Mānoa School of Nursing and Dental Hygiene is developing and conducting training for those involved in Hawaiʻi's vaccination program. UH programs in the health professions will also be providing educational sessions for other university units, the state's nursing and pharmacy communities and the general public.
"Playing a major part in the state's vaccination efforts is just the latest example of UH assisting in this time of crisis," said Lassner. "I am proud of our UH vaccination team co-leads, Dr. Lee Buenconsejo-Lum and Dr. Kristine Qureshi from UH Manoa, as well as Dr. Carolyn Ma from UH Hilo. Members of our UH community have done everything from working alongside government officials on the COVID-19 frontlines, to researching every aspect of the pandemic and our response to engaging in community service across the state to help those in need. This holiday season provides a lasting reminder of how strong we can be when we come together to care for one another."