Waipahu High School has achieved the highest level of national recognition for its career academies under Principal and University of Hawaiʻi at Mānoa alumnus Keith Hayashi. Three out of six career academies were recently recognized as National Model Academies by the National Career Academy Coalition, for a total of six nationally recognized academies, earning the distinction of a wall-to-wall national model academy high school.
The recognition was capped off on January 14, 2021, when the Hawaiʻi State Department of Education held a groundbreaking ceremony for Waipahu High School's new Integrated Career Academy Learning Center. Attendees included Gov. David Ige and State Sen. Michelle Kidani, who spoke about the tremendous efforts of the faculty and staff along the road to this new building, which is scheduled to be completed in mid-2022.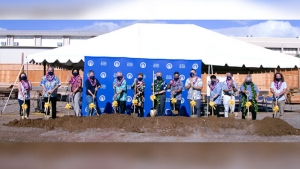 Master of Education in Teaching (MEdT) Chair Jon Yoshioka said, "Principal Hayashi is a humble, visionary leader who is the epitome of an agent of change. He has a rare gift of making both the people and the things around him better, and is a role model for what we want our College of Education (COE) students to be. It is a pleasure to work with Principal Hayashi and his amazing faculty and staff, and we hope to continue that relationship for many years to come."
Hayashi has led Waipahu High School since 2009. He earned a BEd in elementary education, MEd in curriculum and instruction and MEd in educational administration from the COE. He said the center is the result of his school's commitment to creating rigorous and relevant learning opportunities and connections for all students.
"Educational leaders at Waipahu High worked collaboratively to expand on various ideas and experiences in determining how to best prepare our students for life after high school," Hayashi said. "Our focus is our College and Career Academy Design. The learning center will further expand and deepen student learning within two of our school's academies—the Academy of Natural Resources (ANR), and the Academy of Professional and Public Services (APPS)."
Focus on academies
ANR's focus will be on innovative agricultural systems, leveraging the power of artificial intelligence in vertical farming for natural resource production and plant biotechnology. The APPS will feature Waipahu High's award-winning culinary program, the Marauder Cafe, and will partner with ANR to integrate new product development, business, entrepreneurship and hospitality. The school's Academy of Arts and Communication will also support these efforts through its audio engineering technology, graphic communication and multimedia technology pathways.
"Keith is an exemplary school leader with a focus on innovation, community engagement and providing outstanding educational programs for students," Educational Administration Chair Ronald Heck added.
All six of Waipahu High's academies will utilize the second floor resources in the learning center for design thinking and STEM to address authentic community and industry issues. The goal for students in the academies is to make systems connections; strengthen a sense of purpose; leverage higher education opportunities; and earn credentials in high skill, high wage, in-demand and future-focused careers in Hawaiʻi.
"Professor Emeritus Donald Young was instrumental in both my undergraduate and graduate learning at the COE," Hayashi said. "He and other knowledgeable and friendly faculty members have provided numerous opportunities and support for me not only as a student, but also throughout my career as a teacher and principal. Waipahu High is fortunate to partner as a Professional Development School enhancing pre-service and in-service teacher professional learning through the efforts of COE Dean Nathan Murata, Dr. Jon Yoshioka, Dr. Vail Matsumoto, Mr. Aaron Levine, among others. Mahalo for all that you do to support quality teacher education in Hawaiʻi."
This effort is an example of UH Mānoa's goal of Enhancing Student Success (PDF), one of four goals identified in the 2015–25 Strategic Plan (PDF), updated in December 2020.