A technology center on the University of Hawaiʻi at Mānoa campus that is blazing an innovative trail for interactive language learning in the U.S. received a $1.1 million award for its 2021–22 programs.
The Language Flagship Technology Innovation Center (Tech Center) in the College of Arts, Languages & Letters surveys the latest trends in educational technologies for language learning to help The Language Flagship programs across the country designed to shepherd undergraduate students of any major to achieve high levels of language proficiency upon graduation. The award is provided by the Defense Language and National Security Office of the U.S. Department of Defense.
"This new award will allow the Tech Center to move forward with its unique inter-institutional initiatives, which are fostering an active community of innovators that approach technology integration from novel perspectives," said Julio C. Rodriguez, director at UH Mānoa Tech Center.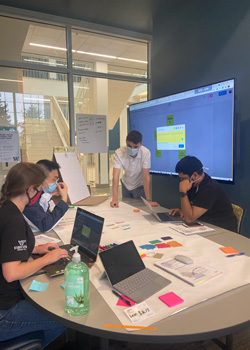 The Tech Center works with a network of 31 Flagship Programs at 23 higher education institutions across the country, including two programs at UH in Chinese and Korean. The center encourages the design and implementation of cutting edge, technology-based learning experiences as well as the innovative use of existing tools.
"The Tech Center is a critical component in the pursuit of the ambitious Flagship goals of achieving high levels of language proficiency in a short amount of time," Rodriguez said.
The center also collaborates with language experts across academia, government and the private sector, to share best practices, lessons learned and research findings. That collaboration has resulted in the development of the Blueprint for Success, guidelines for technology integration for academic programs and federal initiatives.
In September 2021, the Tech Center hosted a hackathon for Language Flagship students and alumni, challenging them to design games to help students overcome common obstacles encountered when learning a language. Part of the Tech Center's award will go toward the implementation of several ideas generated at the hackathon event into applications for students to test in summer 2022.
This research is an example of UH Mānoa's goal of Excellence in Research: Advancing the Research and Creative Work Enterprise (PDF), one of four goals identified in the 2015–25 Strategic Plan (PDF), updated in December 2020.