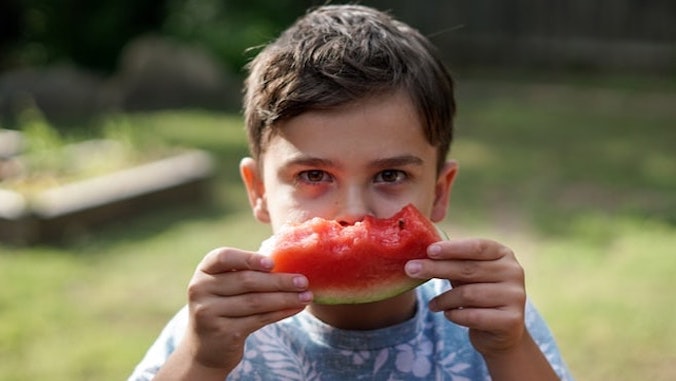 A University of Hawaiʻi at Mānoa program which has decreased the prevalence of obesity in the Pacific, was just awarded a $10-million grant from the U.S. Department of Agriculture (USDA) National Institute of Food and Agriculture (NIFA) Sustainable Agricultural Systems Program.
The Children's Healthy Living Center of Excellence under the College of Tropical Agriculture and Human Resources, will lead a five-year project to create a food systems model that will help identify the drivers of resiliency in food supply chains for decreasing food waste and increasing food and nutrition security, healthful diets and health among children. The UH project, which aims to prevent chronic disease in communities across the Pacific Basin, is one of 15 sustainable agricultural research projects nationwide that received funding from the USDA.
Improving food systems in the Pacific
"Our goals are to increase food and nutrition security, diet quality and healthy body size among children," said principal investigator Rachel Novotny of the Department of Human Nutrition, Food and Animal Sciences. "Long-term, we aim to help prevent chronic disease in households and communities across the U.S.-affiliated Pacific insular area, which includes Alaska, Hawaiʻi, Guam, the Northern Mariana Islands and American Samoa. The findings and tools will also help guide education and extension programs."
The project will start by developing a systems dynamics, transdisciplinary, multilevel food and nutrition security resiliency model. Using this model, the researchers will provide graduate training to future leaders in the region in food and nutrition security model development. Additionally, they will incorporate the model's key results and tools into community programs, including online access to simulation tools to guide change in multilevel systems.
Novotny added, "This grant will help provide the data needed to guide policies so that Pacific food systems can assure the health of children, and thus a healthy future."
According to NIFA Director Carrie Castille, their commitment to research projects like these will result in long-term improvements in agricultural practices that will benefit consumers, farmers and the environment.
"It takes an inclusive systems approach to tackle these major issues. We are excited to see impacts this research investment will generate for our nation to move us towards solutions that benefit all Americans."
This work is an example of UH Mānoa's goal of Excellence in Research: Advancing the Research and Creative Work Enterprise (PDF), one of four goals identified in the 2015–25 Strategic Plan (PDF), updated in December 2020.