Update March 21, 2022: Hawaiʻi bid aloha to legendary University of Hawaiʻi quarterback Colt Brennan on March 20 in a beachside memorial service held steps from world famous Duke's Waikīkī. The Celebration of Life was attended by many of Brennan's former teammates, coaches and friends, along with the Brennan family, which included cousin Brent Brennan, head coach of San Jose State. UH head coach Timmy Chang and many of the current Rainbow Warriors football team and staff also attended. For more on the Celebration of Life and to see additional photos, visit the UH Mānoa Athletics website.
Original story:
The Brennan ʻohana would like to invite friends, family and University of Hawaiʻi football fans to join them in celebrating the life of former UH legendary quarterback Colt Brennan, who passed away in May 2021. A brief ceremony will be held on Waikīkī beach in front of Duke's Restaurant on Sunday, March 20 starting at 8 a.m. A paddle out will immediately follow, and the family will spread Brennan's ashes.
"We were really overwhelmed by the love and support we received from everyone in Hawaiʻi when Colt passed away, and it's only appropriate that we celebrate him in a place that he truly loved and considered home," said Colt's father Terry Brennan. "We're so grateful to everyone in Hawaiʻi and are glad we can finally lay Colt to rest among those who really loved and embraced him."
The 30-minute, pre-paddle out ceremony will include a greeting by Kimo Kahoano, eulogies by former UH Coach June Jones, current UH Coach Timmy Chang and a family member, and a Hawaiian blessing by Kahu Kordell Kekoa. Following the ceremony, attendees may paddle out in canoe, kayaks, surfboards, longboards, boogie boards, etc., out from Duke's Restaurant at the Outrigger Waikīkī Beach, where a brief blessing will be held on the beach before spreading Brennan's ashes in the ocean.
The beach ceremony can be accessed from either direction of the Waikīkī beach shoreline or via the Outrigger Waikīkī Beach Resort on Kalākaua Avenue. Parking will not be provided for the ceremony.
The Colt Brennan Legacy Fund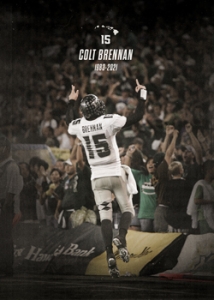 For those unable to attend but who would like to give back in honor of Colt Brennan, donations may be made toward The Colt Brennan Legacy Fund of the Hawaiʻi Community Foundation. Money raised will support causes that Colt cared about, including UH Athletics and youth sports. It will also benefit organizations that advocate and provide resources toward making a difference in the lives of individuals struggling with mental health and addiction issues.
In addition, Barefoot League and HiLife have also collaborated to design a Colt Brennan Tribute shirt, available for $30 online at HiLife's website. All proceeds from t-shirt sales benefit The Colt Brennan Legacy Fund.
More about Colt
Raised in California, Colt Brennan joined UH in 2005 and became one of the school's most celebrated football players. Brennan received multiple awards and honors for breaking college career records and leading the Rainbow Warriors to victories during his three seasons at UH, including an undefeated regular season, Sugar Bowl bid and Heisman Trophy nomination in 2007. He was drafted by the Washington Redskins in 2008, returned to Hawaiʻi after his brief NFL career and volunteered as a coach for various youth football teams. Brennan passed away in May 2021 in California with his family by his side.
For more, visit the UH Mānoa Athletics website.