A University of Hawaiʻi at Mānoa College of Social Sciences professor has been accepted into a prestigious visiting scholars program. Philip Garboden, the Hawaiʻi Community Reinvestment Corporation Distinguished Professor in Affordable Housing/Economics, Policy and Planning—housed in the Department of Urban and Regional Planning (DURP) and the UH Economic Research Organization (UHERO)—will be a Russell Sage Foundation Visiting Scholar in New York City from September 2022 to June 2023.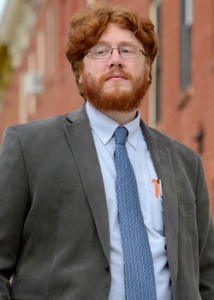 As a visiting scholar, Garboden will work on his forthcoming book, American Landlord (Princeton University Press) with co-author Eva Rosen, in the culmination of more than a decade of work on the low-end housing market. This Russell Sage Foundation recognition is a significant honor for social scientists. Visiting scholars are provided a year of housing, salary support and offices with access to electronic equipment and research materials to work on data analysis and writing projects.
"I'm really excited, honestly," said Garboden, who joined UH Mānoa in 2018. "I have wonderful colleagues at DURP and UHERO, but the pandemic has really kept everyone apart for the better part of two years. So I'm optimistically excited to be in a space explicitly designed for deep cross-pollination. And obviously, these relationships are something I can build on when returning to my regularly scheduled faculty position."
The creation of American Landlord
Garboden met book co-author Rosen at Johns Hopkins University, where Garboden earned two master's degrees in public policy and applied math and statistics, and a PhD in sociology. They both had similar interests in the topics of housing vouchers and the importance of landlords. The two were part of a team that won a 2014 grant from the U.S. Department of Housing and Urban Development (HUD) to interview landlords, leading many years later to a book deal.
I have wonderful colleagues at DURP and UHERO, but the pandemic has really kept everyone apart for the better part of two years. So I'm optimistically excited to be in a space explicitly designed for deep cross-pollination.
—Philip Garboden
American Landlord, which is expected to be published in 2023, will be based on more than 150 interviews with landlords and property managers in four American cities to explore the supply-side dynamics of low-rent housing markets: Baltimore, Maryland; Cleveland, Ohio; Dallas, Texas; and Washington, D.C. Each interview lasted approximately two hours and was designed to focus on business strategies as well as professional and personal histories. The researchers also accompanied landlords as they went about their day-to-day—spending time in housing court, riding along with sheriff's deputies as they conducted evictions, speaking with city officials and tenant advocates, attending real estate auctions and joining investor association meetings.
"The one I remember best was a former investment banker in Dallas who had semi-retired into real estate. He didn't want to be interviewed formally, but he let me ride along with him for a couple of days," Garboden recalled. "My most vivid memory was when something in the back of his pickup got loose and he asked me to reach out the back window to try and hold it all down—all while his truck was screaming along the Dallas highways and he was actively screening tenants via text messages on his phone."
Garboden also remembers a real estate investor with small, multiple investment properties who really struggled to make a living.
"She'd almost lost everything when the housing bubble burst around 2007 and had experienced a lot of financial hardship," Garboden said. "She was a divorcee with little to no marketable job experience, and she really felt that real estate was her path to wealth. When we spoke, most of her investments weren't particularly profitable, but she was very committed. She's doing it to this day."
Supplementing the interviews will be administrative data from HUD, which provides unit, landlord and tenant data for all voucher subsidized units. The book is structured to reveal the complexities and contradictions of rental housing in the U.S. by revealing how landlords view and perform their work.
For more, visit the College of Social Sciences website.
This work is an example of UH Mānoa's goal of Excellence in Research: Advancing the Research and Creative Work Enterprise (PDF), one of four goals identified in the 2015–25 Strategic Plan (PDF), updated in December 2020.