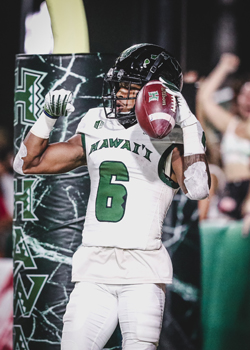 The University of Hawaiʻi football team took an early lead and never looked back, taking down the Nevada Wolf Pack to pick up its second overall win and first conference win of the 2022 season. The 31-16 victory on October 15 at the Clarence T.C. Ching Athletics Complex improves UH's record to 2-5 overall and 1-1 in Mountain West Conference play.
The Rainbow Warriors were led by senior running back Dedrick Parson with 24 carries for 136 yards and three touchdowns. Parson eclipsed the 100-yard mark on the ground and racked up three touchdowns for the second time in his career. Sophomore quarterback Brayden Schager led the passing attack going 13-of-25 for 173 yards and one touchdown. Senior wide receiver Zion Bowens paced the receiving corps with four catches for 79 yards and one touchdown.
On the defensive side, senior defensive back Hugh Nelson and senior linebacker Penei Pavihi led the 'Bows with eight tackles apiece. Freshman defensive back Peter Manuma added seven tackles. Senior defensive lineman John Tuitupou contributed four tackles, and a huge sack and forced fumble with less than five minutes remaining to seal the game for the Rainbow Warriors.
This game was a homecoming of sorts for Head Coach Timmy Chang, who previously spent five seasons on the Wolf Pack coaching staff before taking over at Hawaiʻi.
Game summary
Both teams got off to hot starts offensively. UH took the game's first drive for 75 yards on nine plays, punctuated with a one yard touchdown by Parson. Nevada countered with a 16-play, 75-yard drive, which ended with a 1-yard touchdown by Devonte Lee tying the game at 7. Then on UH's ensuing possession, the Rainbow Warriors fifth play of the drive was a 48-yard touchdown pass from Schager to Bowens, giving UH a 14-7 lead.
Nevada was able to capitalize on a UH interception early in the second quarter with a 36-yard field goal to close its deficit to four points at 14-10. The Rainbow Warriors then extended their lead to 21-10 with a Parson 9-yard touchdown run, which ended a 9-play, 94-yard drive. The Wolf Pack added a 48-yard field goal late in the second quarter to close the gap to eight at the half.
Another Wolf Pack field goal was the only points either team scored in the third quarter, closing the gap to 21-16. On UH's next possession, the Rainbow Warriors used more than eight minutes off the clock and went 16 plays for 65 yards, which ended with a 2-yard Parson rush for a touchdown, pushing UH's lead to 28-16 with just over 10 minutes left in the game. Nevada came up empty on its final three possessions, while the Rainbow Warriors tacked on a 27-yard field goal by Matthew Shipley with less than two minutes left to put UH up 31-16, a lead that would become the final score.
Up next
UH heads on the road to play Colorado State on Saturday, October 22. Kickoff is 10 a.m. HST in Fort Collins. The Rams will enter the game with a 1-5 overall record and 1-1 in Mountain West play after falling at home to Utah State on October 15, 17-13.
For more, visit the UH Mānoa Athletics website.
—By Marc Arakaki
"I love playing at 6 p.m. Hawaiʻi Time, there are millions of people watching." @CoachTimmyChang
#BRADDAHHOOD

— Hawaii Football (@HawaiiFootball) October 15, 2022