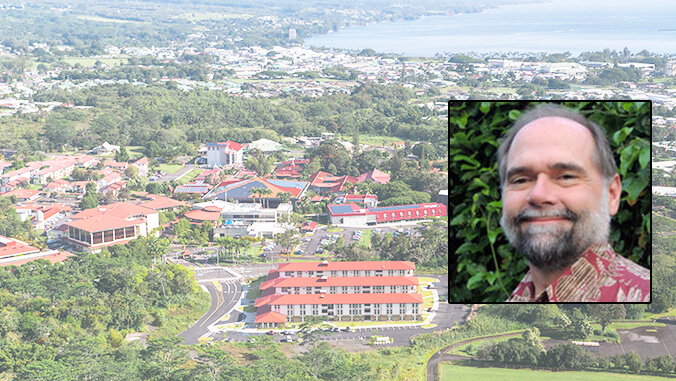 University of Hawaiʻi at Hilo Vice Chancellor for Academic Affairs Kris Roney announced the selection of Michael Bitter as the new permanent dean of the College of Arts and Sciences (CAS) following the UH Board of Regents meeting on January 19. Bitter previously served as interim dean of CAS.
"I am grateful to him for his long and continuing service to UH Hilo, and extend my thanks to the committee for their deep engagement in making this selection," Roney said.
In 1999, Bitter came to UH Hilo as an assistant professor and also taught in the history department for more than 17 years. During that time, he served as department chair for seven years, University of Hawaiʻi Professional Assembly faculty union representative for social sciences, CAS Faculty Senate Chair and UH Hilo Faculty Congress General Education Committee Chair.
As interim dean, he encouraged a variety of initiatives designed to improve the UH Hilo student experience by supporting student, faculty and staff success. Bitter is actively engaged in promoting the expansion of the programs making up the college and collaborating with the Center for Global Education and Exchange to increase opportunities for UH Hilo students to study at partner universities, both nationally and internationally.
"Dean Bitter's commitment to the people and mission of UH Hilo are evident in the work he has done over the years in both his faculty and administrative roles," Roney noted. "His continued leadership of the College and encouragement of their vision for the future will serve our students and community well."
Bitter began his official duties on January 20.