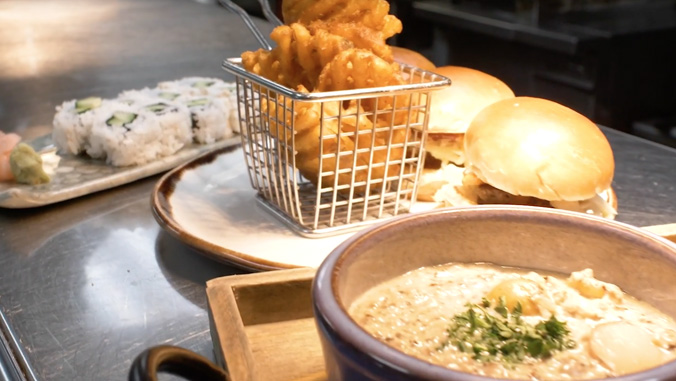 It's the most delicious week of the year—more than 75 restaurants on Oʻahu, Maui, Kauaʻi and Hawaiʻi Island will participate in the 12th annual Restaurant Week Hawaiʻi. The seven-day celebration of the Hawaiʻi cuisine scene, November 15–24, features special menu items, promotions and discounts from fast food to fine dining restaurants.
Diners can taste a variety of exceptional dishes that are prepared by Hawaiʻi chefs. All dishes are made with locally farmed produce.
Part of the proceeds will support the students of the University of Hawaiʻi Community Colleges' Culinary Institute of the Pacific (CIP) at Diamond Head. The institute helps students who wish to hone their culinary skills and receive training in restaurant and business management.
The proceeds will go towards improvements of CIP to better equip and prepare graduates who serve Hawaiʻi's restaurant and hospitality industry as well as the community. Areas of advancement include the signature restaurant, competition auditorium, teaching laboratories, classrooms and office spaces.
"The new campus will give Hawaiʻi's culinary arts graduates an excellent venue to earn higher culinary arts credentials here in Hawaiʻi," said Jared Kaya, a graduate from Kapiʻolani Community College's culinary program.
Students of CIP are given opportunities to obtain a bachelor of applied science in culinary management through UH West Oʻahu, earn an advanced professional certificate for advanced education and training in Asian, Pacific and Hawaiian cuisine, and enroll in short-term professional courses to sharpen their culinary and business skills.
"The instructors all pushed me to do my best and to do it with passion," said Kauaʻi Community College culinary graduate, Kiana-Leigh Matsuyoshi. "Realizing that I will have the opportunity to gain advanced culinary education through the Culinary Institute of the Pacific at Diamond Head excites me toward better preparing myself for career advancement."
For more details on the event and a list of this year's participants, visit the Restaurant Week Hawaiʻi website.
More about the Culinary Institute of the Pacific