With generous support from King's Hawaiian and foundations in Hawaiʻi, the UH Foundation has raised $1.1 million this fiscal year to support the Culinary Institute of the Pacific at Diamond Head (CIP).
A significant gift from King's Hawaiian will provide funding for an executive director to lead the CIP's programs in advanced culinary arts education. Recruitment for this position is anticipated to begin later this year.
"The generous gift from King's Hawaiian will help us recruit and equip a stellar leader to propel the CIP at Diamond Head's dynamic programming, enabling us to compete as a world-class culinary educational institute," said Erika Lacro, University of Hawaiʻi vice president for community colleges. "We look forward to welcoming a culinary leader who thrives on innovation and collaboration, and is committed to sustainability and leading with aloha."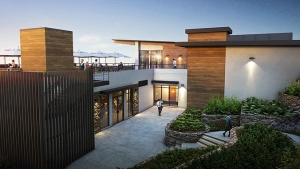 CIP is an advanced, one-of-a-kind culinary campus with global reach, emphasizing the cultural diversity of the islands. Phase 2 of construction kicked off on October 28, 2020, and, in the fall of 2022, CIP will have a signature restaurant, demonstration auditorium studio and culinary innovation center. Thanks to generous support from donors, these additions will expand programming, hands-on experiential learning, and food innovation and entrepreneurial opportunities.
Tim Dolan, UH vice president of advancement and UH Foundation CEO said, "We are most grateful to all our donors who have played a leading role in bringing our state's CIP dream to life. Their philanthropic investments are educating and honing the skills of the next generation of culinary entrepreneurs, and building Hawaiʻi's post-pandemic economic prosperity and resilience."
Learn more about CIP
A webinar on Kapiʻolani Community College will celebrate the college's 75th anniversary and highlight innovative programs. Register and tune in to hear an update on the college and a discussion about the Culinary Institute of the Pacific. The webinar is part of the "On the Horizon" series produced by the UH Office of Alumni Relations and UH Foundation in partnership with the campuses of the UH System.
The webinar will be held July 22 at 11 a.m. and will cover:
Kapiʻolani

CC's history and impact on

Hawaiʻi

, with Chancellor Louise Pagotto.
A virtual tour of CIP Phase 2 construction and areas of focus with Dean John Richards.
Interviews with food scientist and instructor, Lauren Tamamoto, and alumnus from the Culinary Innovation Center, Chris Fujimoto, a Native Hawaiian and former scholarship recipient, whose undergraduate research on ʻulu and watercress resulted in new, innovative products.
For information on how you can support the advanced culinary education programs in Hawaiʻi,The funding will support an executive director to lead CIP. visit the UH Foundation.