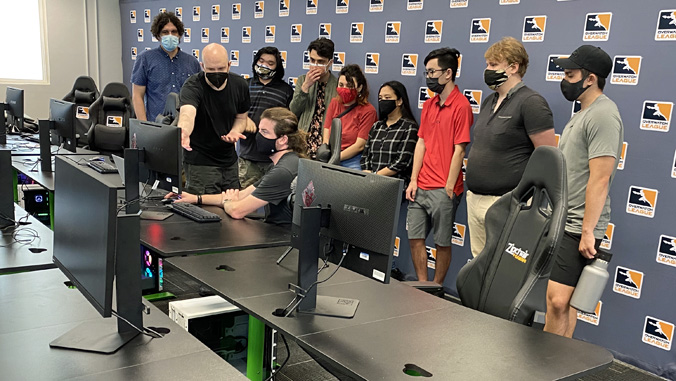 University of Hawaiʻi at Mānoa students, alumni and staff said the Overwatch League's (OWL) appearance at UH Mānoa "exceeded expectations," and they cannot wait to implement what they learned into their own tournaments.
UH Mānoa hosted two elite Overwatch teams competing in the league's May Melee tournament, May 6–8. Students learned how OWL manages its tournaments and worked directly with the league's staff.
"Working with OWL has been an absolute pleasure. I was touched by just how attentive the staff were to the students, leading them through different parts of the events, taking time to explain to the students how the technologies used for the tournament, for instance, by walking them through a series of checks on each of the players' computers so that the tournament is seen as being fair," said Nyle Sky Kauweloa, a communication and information sciences PhD student and head of the UH Mānoa Esports Task Force in the College of Social Sciences.
UH Mānoa esports experiences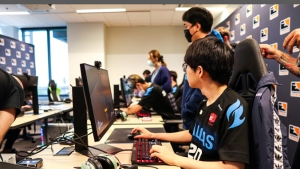 Alec Tuason, a second-year marine biology student and UH Mānoa esports player, worked with OWL to set up the broadcast equipment, player setups, backdrops and lounge areas. Tuason also helped manage the UH Mānoa esports Twitter account and worked as an event photographer.
"One of the main takeaways from this week for me was just how much work goes into a production as large as the Overwatch League," Tuason said. "Countless hours are spent meticulously putting the whole broadcast setup together and making sure everything runs smoothly. So many different pieces have to come together for something of this scale, and it all takes time."
Kason Padilla graduated from UH Mānoa in spring 2020 with a BA degree in communications and a minor in American studies. Padilla serves as a mentor/manager with the UH Mānoa esports program.
"So much of this past week helped me reflect on how to be a better leader," Padilla said. "I remember one instance in particular: the OWL competitive operations lead Adam gave a few of us this awesome talk about how he believes you should lead a team, and it really came down to empowering those around you. 'Encourage people to make their own decisions so they can then learn from their own mistakes,' he said. That definitely hit home, both as a leader and as someone who's always doing their best to not screw up in whatever I'm doing."
Padilla added, "That perfectionist mindset has gotten in my way in the past, and Adam's talk was a reminder that I can help those around me not get stuck in those same pitfalls by simply reassuring them that making mistakes is a core part of how we learn."
Upcoming tournaments
Dallas Fuel won the May Melee tournament and took home the $100,000 first place prize over the Shanghai Dragons, Florida Mayhem and Chengdu Hunters. OWL will return to UH Mānoa June 10–12, July 15–17 and August 19–21 for three more tournaments.
We are thrilled with the success of the May Melee and our collaboration with UH Mānoa to make it all possible.
—Spector
"We are thrilled with the success of the May Melee and our collaboration with UH Mānoa to make it all possible. 'Project Aloha' worked perfectly," said Jon Spector, head of the Overwatch League. "We were able to watch the best Overwatch teams from around the world compete in a safe and high-quality manner and to crown a global winner of this first 2021 tournament. We are looking forward to returning three more times this year."
"For the next event, we plan on integrating more students," said Kevin Nguyen, UH Mānoa esports program assistant. "Now that we know what we are capable of, we want to incorporate more students to give them this once in a lifetime opportunity to work with the OWL staff. While doing so, we also want to give leadership roles to the students that worked the May event."
Earn college credits
Students who are assisting with the tournaments have the opportunity to earn course credits through the Social Sciences 489 internship class. In addition, applications are being accepted until May 14, 2021 at 5 p.m. for UH Mānoa's School of Communications' three-course esports series beginning this fall. Twenty selected students will enroll in a fall 2021 course on esports and society; and two spring 2022 courses on streaming and content creation, and marketing. Students from all majors are invited to apply.
This opportunity is an example of UH Mānoa's goals of Enhancing Student Success (PDF) and Excellence in Research: Advancing the Research and Creative Work Enterprise (PDF), two of four goals identified in the 2015–25 Strategic Plan (PDF), updated in December 2020.
—By Marc Arakaki