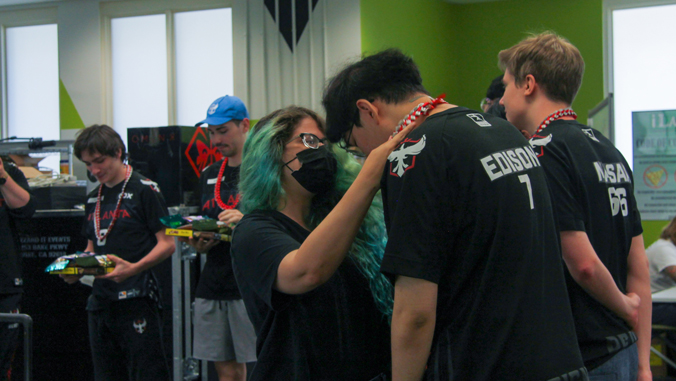 Alec Tuason is a University of Hawaiʻi at Mānoa marine biology student. So, why join UH's esports team and participate in UH Mānoa's summer esports internship program? Tuason calls it his passion.
"Even though it has always been my plan to work in the marine biology industry, and still is, I have always been passionate about gaming and esports, so when the opportunity arose to work with the Overwatch League (OWL) on campus, I couldn't say no," Tuason said.
UH Mānoa hosted two elite Overwatch teams competing in the league's May Melee and June Joust tournaments. Tuason and several other students in the School of Communications esports internship course are getting hands-on learning experience helping to run OWL events and working directly with the league's staff.
"Getting to work with the Overwatch League is an incredible opportunity that most people will never get to experience, so I am trying my hardest to make the most out of it and learn as much as I can," Tuason said. "For a production as large as OWL, so much planning, so many people and so much equipment has to come together for everything to go well and watching how Blizzard flawlessly goes through every single event is a thing of beauty."
Tuason worked as a content lead, videographer and photographer for the June Joust tournament, June 10–12. This experience has expanded his vision for marine biology.
"Working as a content lead and learning crucial skills relating to photography, videography and production may help me in the future if I decide to pursue a position in the marine biology industry that requires some of those skills," Tuason said.
Kelsy Padilla, an art and creative media major, was also a content lead for the June Joust.
"This experience is insane, to say the least. I definitely never expected to be a part of something like this. The hours are long, the people are super fun to be around, and I'm learning a lot from everyone," Padilla said. "I feel like I'm getting a taste of that esports carrier I've been interested in for so long. It's also encouraging me to network as it can be tough to get back into after being cooped up inside for a whole year."
UH Mānoa will host Overwatch teams in two more summer tournaments in July and August.
"The Social Science 489 internship has now become an integral part of the OWL and UH event," said Nyle Sky Kauweloa, a communication and information sciences PhD student, head of the UH Mānoa Esports Task Force in the College of Social Sciences and instructor. "Through this internship, not only are the UH Mānoa students getting a unique opportunity to work with the Overwatch League for four different weeks throughout summer, but they are also benefiting from the experience through the mentorships and friendships made from the social sciences internship program."
Earn college credits
Along with the summer esports internship course, UH Mānoa's School of Communications is hosting a three-course esports series beginning this fall. Twenty-five communication majors and 25 non-communication majors have applied. Kauweloa will select 20 students to enroll in the fall 2021 course on esports and society; and two spring 2022 courses on streaming and content creation, and marketing.
Joining UH Mānoa esports
The UH Mānoa esports program will soon be recruiting members for the upcoming academic year. Tryouts will be in late July or early August and will be announced on the team's Twitter and Discord pages.
2020–21 esports accomplishments:
Valorant—UH ended spring 2021 as one of the top three collegiate teams in the nation. They fell to San Jose State in the semifinals and are gunning for a championship next year.
Overwatch—The UH Overwatch team was crowned champions of United Gaming Clans season 14 and the academy roster took 3rd place.
League of Legends—The UH League of Legends varsity team had major improvements after a rough 1-5 record during the 2020 season. They ended the 2021 season with a 6-4 record barely missing the playoffs. They are headed into the next year aiming for a playoff spot.
Rainbow Six Siege—The varsity team competed in the inaugural Ubisoft: FACEIT league this year. It was their first venture into this competition and they ended with a record of 3-3 and a quarterfinal finish.
Super Smash Bros. Ultimate—The team competed online with the Electronic Gaming Federation for the first time. They ended the year with a 10-6 record and fell just short in the playoffs.
Rocket League—With Rocket League's surging popularity in the collegiate scene, UH Mānoa esports wanted to start a team. They were able to recruit the minimum number of players to get started, and finished second in their conference with a 7-2 record.
This program is an example of UH Mānoa's goals of Enhancing Student Success (PDF) and Excellence in Research: Advancing the Research and Creative Work Enterprise (PDF), two of four goals identified in the 2015–25 Strategic Plan (PDF), updated in December 2020.
—By Marc Arakaki