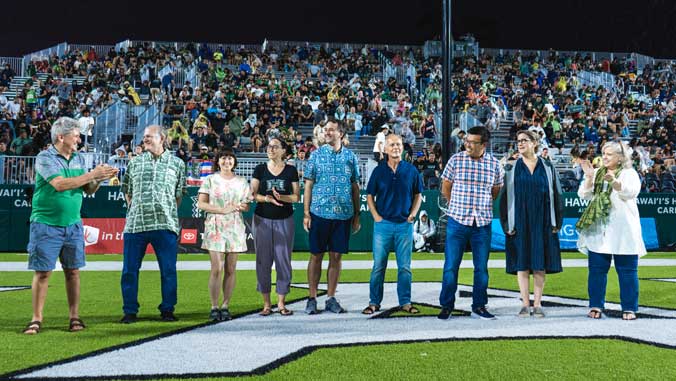 A group of 2023 University of Hawaiʻi Mānoa Award winners were honored on September 23 during the UH football game against New Mexico State at the Clarence T.C. Ching Athletics Complex. They came onto the field after the first quarter and received a round of applause from the more than 10,000 fans in attendance.
"It is something I will never forget and am so glad my family was there to be a part of it," said Ken Chambers, an Institute for Astronomy astronomer who received the Board of Regents Medal for Excellence in Research. "It was wonderful to have the UH ohana take a moment during a hard fought game to shout out support for teaching and research."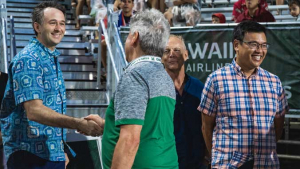 Fellow awardee Tyler Ray agreed. The College of Engineering assistant professor received the Presidential Citation for Meritorious Teaching.
"It is amazing to be here with such an incredible group of people, just being surrounded by all of the students and fans," said Ray. "It is just a wonderful experience."
"And best of all, the Rainbow Warriors got the win at the last moment," added Chambers.
The award is given annually to faculty, staff, and students for excellence in teaching, research and service.
"This is an amazing group of outstanding faculty, staff and students and it was wonderful to be able to honor them in front of thousands of UH fans," said UH President David Lassner, who escorted the group onto the field to personally congratulate them. "UH Mānoa is one of the best universities in the world and it's because of individuals like these going above and beyond each and every day."
Of the 30 award recipients, seven were able to attend: Richard C. Chen, Monica C. LaBriola, Manca Sustarsic, Kevin Nute, Wendy Kawabata, Chambers and Ray.
The annual awards ceremony hosted by Lassner and UH Mānoa Provost Michael Bruno was held on May 1, at Kennedy Theatre.