Regents' Medal for Excellence in Teaching
Teaching Medal Award Winner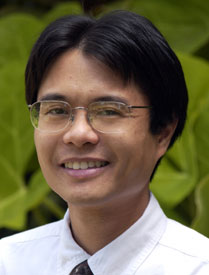 Anthony Guerrero
Manoa
Throughout his academic career, UH Manoa Associate Professor of Psychiatry and Pediatrics Anthony Guerrero has been committed to teaching medical students, working to optimize the effectiveness of patient-based learning and striving to be an effective mentor for students at all levels of medical training.
Guerrero believes that quality psychiatric education for medical students is a key mechanism through which mental health care can be improved. His medical education research focuses on innovations designed to enhance the benefits of problem-based learning and to facilitate the natural integration of psychosocial and cultural perspectives into patient care.
The Regents' Medal for Excellence in Teaching is awarded by the Board of Regents as tribute to faculty members who exhibit an extraordinary level of subject mastery and scholarship, teaching effectiveness and creativity and personal values that benefit students. The board also awards the Regents' Medal for Excellence in Research.
Select a recipient for more about that individual.
Current awardees and links to archives.
2005

Gerald D.
Brown
Kaua'i

Duane Clark
Maui

Douglas
Crowell
Kapi'olani

Catherine Fulford
Manoa

Anthony Guerrero
Manoa

Terry Hunt
Manoa

Antoinette Martin
Windward

Paul
Onomura
Honolulu

Rebecca Ostertag
Hilo

Petri Pieron
Hawai'i

Wesley
Teraoka
Leeward

Eric
Yamamoto
Manoa