Regents' Medal for Excellence in Teaching
Teaching Medal Award Winner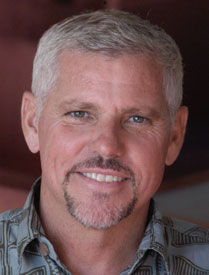 Terry Hunt
Manoa
The foundation of UH Manoa Associate Professor of Anthropology Terry Hunt's teaching includes challenging students to gain direct learning experiences and make original contributions through research. He conducts archaeological field schools in Fiji and Rapa Nui, during which he encourages students to consider their influence on a small local community and what implications research into cultural change has for the world.
Hunt also launched a course combining Hawaiian and Pacific island archaeology courses where students travel to French Polynesia and sail aboard the Aranui from Tahiti to the Marquesas Islands.
A student observed, "Dr. Hunt makes archaeology alive and literature significantly tangible."
The Regents' Medal for Excellence in Teaching is awarded by the Board of Regents as tribute to faculty members who exhibit an extraordinary level of subject mastery and scholarship, teaching effectiveness and creativity and personal values that benefit students. The board also awards the Regents' Medal for Excellence in Research.
Select a recipient for more about that individual.
Current awardees and links to archives.
2005

Gerald D.
Brown
Kaua'i

Duane Clark
Maui

Douglas
Crowell
Kapi'olani

Catherine Fulford
Manoa

Anthony Guerrero
Manoa

Terry Hunt
Manoa

Antoinette Martin
Windward

Paul
Onomura
Honolulu

Rebecca Ostertag
Hilo

Petri Pieron
Hawai'i

Wesley
Teraoka
Leeward

Eric
Yamamoto
Manoa