Kapiʻolani Community College's 2019 culinary competition team, known as Team Hawaiʻi, finished strong. It was one of five teams to earn a silver medal at the Cook. Craft. Create. American Culinary Federation National Convention and Show—considered the national collegiate culinary championship in Florida in August. Of the six teams that competed this year, one team won a bronze medal and there were no gold medalists.
Team Hawaiʻi is comprised of student chefs Greg Gamayo Jr. (captain), Ethan Momohara, Ritchie Wong, Kainoa Reloza, Xiaoling Cheng, lead chef instructor Jason Peel and chef instructor David Brown.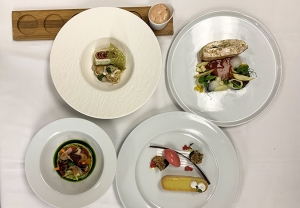 "I'm so proud of our student team from Kapiʻolani Community College to get this far. They really put their hearts out there on the plates and in the kitchen," said Peel. "Although the national (gold) win didn't go our way this time, they represented Hawaiʻi with dignity and pride."
Each team prepared a four-course menu, with 110 minutes to prep, cook, plate and serve all dishes to the judges within the time limit. They were judged on presentation, flavor, nutritional value, cooking technique, teamwork, sanitation and timing.
The Kapiʻolani CC team won a national gold medal in 2009 and silver medals in 2013 and 2017.
Peel said, "We are bringing home a silver medal and are going to keep fighting to bring home a national gold again. Thank you Hawaiʻi for your support and aloha."
More on Team Hawaiʻi and Kapiʻolani CC's culinary program.
—By Kelli Trifonovitch