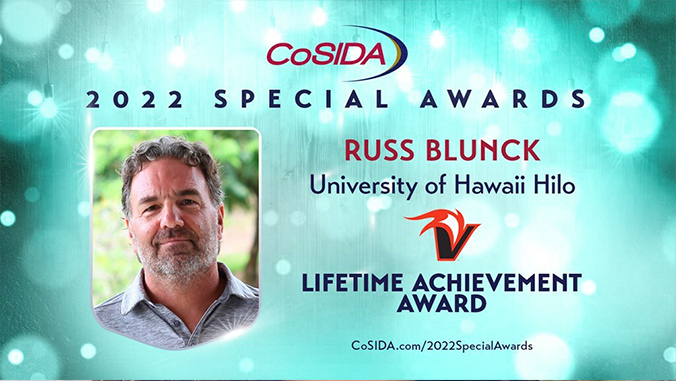 Russ Blunck, the former sports information director (SID) at the University of Hawaiʻi at Hilo who retired in September 2021, was awarded the Lifetime Achievement Award by the College Sports Information Directors of America (CoSIDA).
After retiring to the Oregon coast in November, Blunck filled his time by writing remotely for a handful of schools and worked as the lead broadcaster for the PacWest Basketball Championships in March.
It is not the first time that Blunck, who capped a 29-year career in sports information with his retirement from UH Hilo, found himself drawn back to the profession after trying to step away.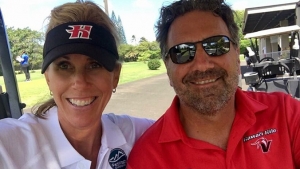 He spent nearly 20 years in athletic communications, beginning as a student SID at Pacific University to work with Athletes in Action, the Portland Breakers, Point Loma University and Western Oregon University.
When he returned to being a full-time sports information director at UH Hilo after a decade away, Blunck admits that the demands and technology had changed so much that it took time to catch up. The slower pace of Hawaiʻi Island, with its palm trees, black sand beaches and warm temperatures went a long way to make the learning curve feel a bit flatter.
"My last job at Hawaiʻi, Hilo was more like my student SID job at Pacific than any other," Blunck said. "In both cases, the expectations were achievable and Hilo had so many old-school aspects to it. I got to work with media again. I did a lot of writing, returned to broadcasting and enjoyed the small community and campus."
Blunck had great mentors ahead of him in CoSIDA Hall of Fame Paul Madison at Western Washington and longtime Central Washington and Great Northwest Athletic Conference SID Bob Guptill.
And then he learned from those who he taught the ropes of the business to.
"Ironically, I often asked questions of two guys that worked for me, Danny Barnts and Jonathan Gordon. Those two are the source of great pride and have always been a resource to me. Both went on to very successful sports information careers and more importantly are tremendous family men," said Blunck.
For more information on Blunck, see the Vulcan Athletics website.