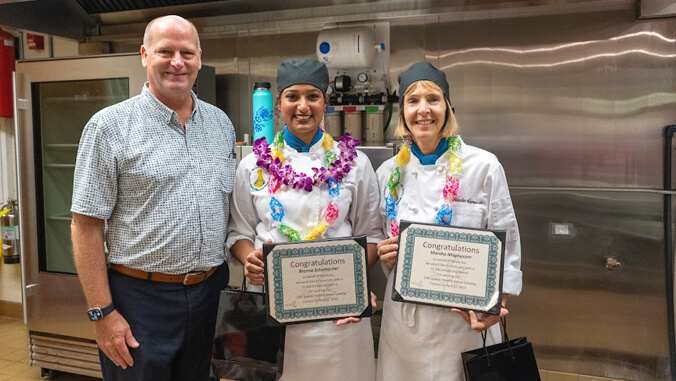 Kapiʻolani Community College culinary arts students Marsha Magnussen and Brenna Shumacher were named the winners of the 12th annual Art of Healthy-licious Cooking Contest. Hosted by Kāhala Nui retirement community and Kapiʻolani CC, the contest tasks students with developing delicious healthy recipes using a featured ingredient that can easily be reproduced by seniors. Both Magnussen and Shumacher were awarded a $1,000 scholarship for their winning recipe—"Butternut Squash Soup with Pickled Apple & Goat Cheese Crackers Two Ways."
"It's still very surreal to me that we won," said Shumacher. "We put in a lot of work and effort into this competition so it's also very satisfying to see our hard work pay off. I'm genuinely grateful for the experience and very excited about our accomplishment."
A total of four two-person teams competed in this year's competition, using Sweet Land Farm goat-based dairy products as the featured ingredient. Previous featured ingredients in the program's 12-year history have included watercress, taro, ulu, tofu, rice, Hawaiian sweet potato, kampachi and more.
"When presented with the information on the competition, soup immediately came to mind and in particular, butternut squash soup," explained Magnussen. "I think because it hit some of the top boxes immediately: butternut squash is healthy, soup is approachable and good for everyone, not only seniors, and soup could showcase the theme ingredient of goat cheese or milk."
A panel of judges consisting of Todd Constantino, Kāhala Nui director of dining services; Grant Itomitsu, Kapiʻolani CC culinary arts department chair; Chef Eric Leterc, executive chef at the Pacific Club; and Emma Bello, owner of Sweet Land Farm, scored each recipe based on taste, nutritional value, use of theme ingredient, ease of preparation and oral presentation.
"Twelve years ago, we were very fortunate to find a great partner in Kapiʻolani Community College," said Kāhala Nui president and CEO Craig Courts. "Since then, their talented students have been cooking up healthy recipes for seniors while at the same time learning about other opportunities within the food and beverage field beyond resorts and restaurants."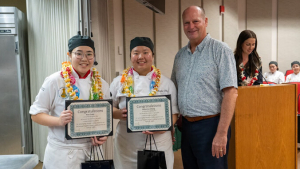 Magnussen and Shumacher received the Judges' Choice Award for their recipe. In addition, the student team of Catherine Chang and Kira Ozaki earned the People's Choice Award for their "Goat Cheese, Tomato and Watermelon Gazpacho" recipe. The People's Choice Award was voted on by members of the audience, which included Kāhala Nui senior residents and other audience guests. Chang and Ozaki each received a $500 scholarship.
There were also two runner-up teams in the competition, consisting of students Christopher Higa and Erika Leong on one team, and Jihun Lee and Lily Yamamoto on the other. Each runner-up team member received a $100 gift card prize.
"At the announcement of the competition, Brenna and I were in our Fundamentals of Cooking class with Chef Kenneth Lee," said Magnussen. "He really encouraged the entire class to enter and told us all we had a great shot at winning! So his initial enthusiasm got me going."