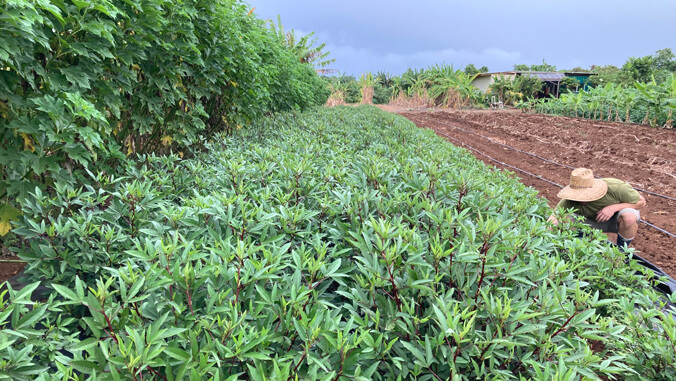 To address the gap in state-level food system planning and policy, researchers across the University of Hawaiʻi System are facilitating the development of the first collaborative statewide food system planning effort. Hawaiʻi has never had a comprehensive state plan to guide the development of food and agriculture. Experts argue that the negative consequences of not having a statewide vision and strategy for the future of food has become increasingly clear.
"The lack of food system planning was highlighted by the many food system issues that emerged during the COVID-19 pandemic, including exacerbated household food insecurity, the lack of economic diversification and inadequate disaster preparedness in Hawaiʻi," said Noa Lincoln, associate researcher and lead of the Indigenous Cropping Systems Laboratory in the University of Hawaiʻi at Manoa's College of Tropical Agriculture and Human Resources. "It validated what many community members and scholars have stated for decades: there is an urgent need for food system change, and a detailed plan, appropriate investment and new forms of food system governance to facilitate that change."
UH's efforts are spearheaded by Albie Miles, assistant professor and director of the Sustainable Community Food Systems program at UH West Oʻahu. The collaboration brings together UH faculty, key state agencies, elected officials, private enterprise, non-profit organizations, consultants and community leaders across the food, agriculture and public health sectors. Their efforts are part of Transforming Hawaiʻi's Food System Together—a U. S. Department of Agriculture-funded initiative that seeks to build statewide capacity to develop a healthy, equitable, sustainable and resilient food system, especially in times of crisis.
Over the last two years, UH faculty and community leaders have developed a range of knowledge products about the food system of Hawaiʻi and are now seeking to craft, through a participatory process, a stakeholder-informed Integrated State Food Policy Framework for Hawaiʻi that addresses seven major food system themes and 18 food system planning elements, such as household food insecurity, biocultural restoration and climate change resilience. The document will also serve as a blueprint for promoting Indigenous and cultural foodways.
Miles said, "The completed Integrated State Food Policy Framework for Hawaiʻi is designed as a living document to be updated periodically and aims to bring new and existing food policies, strategies and investment recommendations under a common 'roof' and to focus them on clear and consistent objectives and drive food system change toward measurable goals consistent with Hawaiʻi's Sustainability Goals and multiple food and agriculture related UN sustainable development goals."
UH leaders include Miles, Lincoln, and Kamuela Enos, director of the UH System Office of Indigenous Knowledge and Innovation. Subhashni Raj, a UH Mānoa assistant professor in the College of Social Sciences Department of Urban and Regional Planning with expertise in food system planning, recently joined the initiative.
Raj said, "Functioning food systems are critical for community health and well-being, and most American cities were ill-equipped to manage deficits in the food system during the peak of the COVID-19 crises."
The Transforming Hawaiʻi's Food System Together initiative and the work on the Integrated State Food Policy Framework for Hawaiʻi are funded by the U.S. Department of Agriculture Regional Food Systems Partnerships Program, the Hawaiʻi Institute for Sustainable Community Food Systems at UH West Oʻahu, the W.K. Kellogg Foundation, Kamehameha Schools and the Hawaiʻi Public Health Institute, among many others. The plan is expected to be completed by the end of the year.
Special edition: Frontiers in Sustainable Food Systems
Miles and Lincoln also were involved in a consortium of leading food system researchers from around the world that recently completed a special edition of a leading open-access food system journal on the topic of food system resilience and equity in an era of global environmental change. Miles served as senior editor for the project Frontiers in Sustainable Food Systems: Achieving Food System Resilience & Equity in the Era of Global Environmental Change.
The highly successful volume had already garnered more than 99,000 views by the beginning of October. The volume includes 20 articles covering such topics as land tenure reform, economic consolidation, sustainability indicators, biocultural diversity, urban agroecosystems, food sovereignty, human rights, and the role of traditional ecological knowledge in achieving food system resilience and equity. Raj was the lead author for "Food Security and Climate Change: Differences in impacts and adaptation strategies for rural communities in the Global South and North."