Frances Davis Award for Excellence in Undergraduate Teaching
Davis Award Winner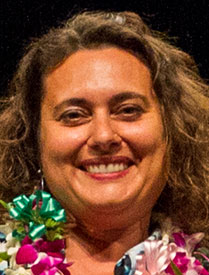 Maria Guerriero
Manoa
Maria Guerriero is an instructor from the School of Nursing and Dental Hygiene at the University of Hawai'i at Manoa.
Guerriero believes that teaching must be innovative and combine mind-body-artistic aspects that create vibrant and unique learning experiences.
As an instructor in psychiatric mental health nursing, her work with students takes them into settings where they may experience inhibitions and misconceptions. An early adopter of simulation in her clinical courses, and later through the partnership between the school and actors from the Department of Theatre and Dance, Guerriero has created enhanced opportunities for students to function at a higher level of expertise. Through realistic simulations, nursing students are offered opportunities to practice therapeutic communication and care in highly charged emotional contexts.
One nursing student said that they appreciated Guerriero's assistance in analyzing "my therapeutic communication in a way where I felt unjudged and open to her constructive criticism."
The Frances Davis Award for Excellence in Undergraduate Teaching recognizes dedication and demonstrated excellence as teachers of undergraduate students. It was established as a memorial to the late Frances Davis, who taught mathematics at Leeward Community College and UH Manoa for 19 years.
Current Winners
Go to UH News for stories on the latest honorees.
2002 – 2015 Honorees
2012–2015 | 2007–2011 | 2002–2006.
2015
2014
2013
2012