Frances Davis Award for Excellence in Undergraduate Teaching
Davis Award Winner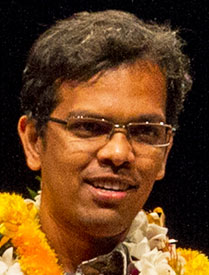 Chamil Rathnayake
Manoa
Chamil Rathnayake is a graduate assistant in the School of Communications at the University of Hawai'i at Manoa.
Part of his teaching philosophy, Rathnayake views teaching as a process of learning as much as teaching. For him, teaching is a process of reflexive learning of the dynamics of the class. Rathnayake designs and devises a strategy to open students' minds to absorb new concepts, critique, develop their own perspectives and inculcate the habit of seeking knowledge independent of the instructor.
With the guidance of his advisor and support from the faculty at the School of Communications, he teaches classes in the ICT's track at the school.
A doctoral student in the interdisciplinary communication and information sciences program, Rathnayake brings an interdisciplinary focus to his class that blends concepts in different fields, such as information and communication technology, communication policy and communication theory.
As a student instructor, he views teaching as a transformative experience, and says, "the more I teach, the more I learn, and the more I learn, the more I can help my students to learn."
The Frances Davis Award for Excellence in Undergraduate Teaching recognizes dedication and demonstrated excellence as teachers of undergraduate students. It was established as a memorial to the late Frances Davis, who taught mathematics at Leeward Community College and UH Manoa for 19 years.
Current Winners
Go to UH News for stories on the latest honorees.
2002 – 2015 Honorees
2012–2015 | 2007–2011 | 2002–2006.
2015
2014
2013
2012