Frances Davis Award for Excellence in Undergraduate Teaching
Davis Award Winner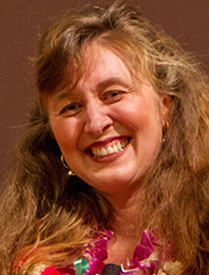 Angela Haeusler
Manoa
Angela Haeusler is a graduate assistant in the second language studies program in the College of Languages, Linguistics and Literature at UH Manoa and assists in the office of the Hawai'i Language Roadmap and Program.
She teaches upper division second language studies courses for undergraduate students and has taught English Language Institute courses for both undergraduate and graduate students.
Among her major achievements has been the development of a new undergraduate course, with faculty input, which ended with a public mini-conference where students presented creative projects.
Student evaluations highlight her ability to make the material interesting and relevant. They say she is knowledgeable and provides good feedback and communicates concepts so they are easily understood.
Her course preparation work include creating a curricular unit on American academic writing for international graduate students, coordinating and offering a networking opportunity with alumni teaching abroad via an information session for a class and having micro-teaching opportunities for students.
The Frances Davis Award for Excellence in Undergraduate Teaching recognizes dedication and demonstrated excellence as teachers of undergraduate students. It was established as a memorial to the late Frances Davis, who taught mathematics at Leeward Community College and UH Manoa for 19 years.
Current Winners
Go to UH News for stories on the latest honorees.
2002 – 2015 Honorees
2012–2015 | 2007–2011 | 2002–2006.
2015
2014
2013
2012