Frances Davis Award for Excellence in Undergraduate Teaching
Davis Award Winner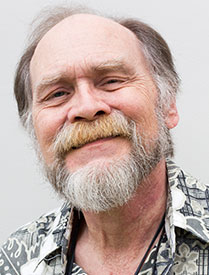 Norman Purves
Hilo
Norman Purves is an instructor and laboratory coordinator in physics and astronomy at UH Hilo.
Purves is described as an inspiring professor who devotes countless hours to assisting students. He goes beyond what is required or asked of an instructor to ensure students get the best education possible. He is always available for office hours, easily approachable, and most critically, helps students discover answers on their own, thereby boosting their self confidence in their ability to resolve problems and understand critical aspects of physics and astronomy.
Purves teaching style encourages students to feel comfortable speaking up and contributing to class discussions. Others described how Purves inspired them to learn more and being driven to succeed in class. That inspiration has led his students to participate in cutting edge experiments bringing them respect and recognition from the scientific community.
The Frances Davis Award for Excellence in Undergraduate Teaching recognizes dedication and demonstrated excellence as teachers of undergraduate students. It was established as a memorial to the late Frances Davis, who taught mathematics at Leeward Community College and UH Manoa for 19 years.
Current Winners
Go to UH News for stories on the latest honorees.
2002 – 2015 Honorees
2012–2015 | 2007–2011 | 2002–2006.
2015
2014
2013
2012