Frances Davis Award for Excellence in Undergraduate Teaching
Davis Award Winner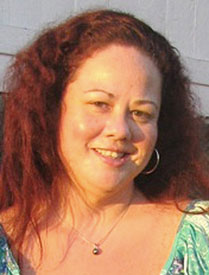 Ku'ualoha Ho'omanawanui
Manoa
Ku'ualoha Ho'omanawanui is an assistant professor in the Department of English in the College of Languages, Linguistics and Literature at UH Manoa.
Ho'omanawanui has taught more than a thousand students over the past five years, in courses that connect Pacific literature with other indigenous and classical narratives.
She was born in Kailua and raised both there and in Wailua Homesteads on Kaua'i. Ho'omanawanui is not only a teacher and scholar, but also an artist who is a highly respected community leader in Hawaiian literature, culture and politics.
She is the editor of Oiwi: A Native Hawaiian Journal, which creates opportunities for never before published writers, scholars, activists and youth.
The Frances Davis Award for Excellence in Undergraduate Teaching recognizes dedication and demonstrated excellence as teachers of undergraduate students. It was established as a memorial to the late Frances Davis, who taught mathematics at Leeward Community College and UH Manoa for 19 years.
Current Winners
Go to UH News for stories on the latest honorees.
2002 – 2015 Honorees
2012–2015 | 2007–2011 | 2002–2006.
2015
2014
2013
2012