Despite the COVID-19 pandemic, excellence in research, academics and outreach continued at the 10 campuses of the University of Hawaiʻi.
From a student-led effort to teach ʻōlelo Hawaiʻi to a mysterious monolith, the discovery of offshore freshwater to a college course that teach surfing and so much more, UH persevered in a year like no other. UH News reached new heights in 2020 with a record 1,457 stories posted (and still counting) and a record 1.9 million views. Here are the top 10 UH News stories, in random order for the year 2020.
UHʻs response to COVID-19 pandemic

More than 530 COVID-19 related stories have been posted on UH News since late February covering a wide array of topics including systemwide announcements on moving instruction online; community college initiatives to support Hawaiʻi's workforce; the results of economic, social and psychological studies on the effects of the pandemic and community service projects by UH students and employees such as food drives and mask making. Read about UH COVID-19 research and how UH is helping during the pandemic.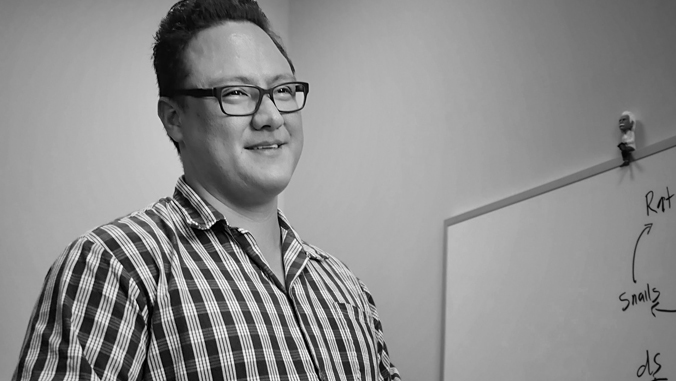 First Native Hawaiian to earn applied math PhD multiplies successes
UH West Oʻahu Associate Math Professor Kamuela Yong has earned a number of distinctions including receiving a 2020 Board of Regents' Medal for Excellence in Teaching. This, after achieving international recognition, as the first Native Hawaiian to earn a PhD in applied mathematics.
Offshore submarine freshwater discovery raises hopes for islands worldwide
Twice as much freshwater is stored offshore of Hawaiʻi Island than was previously thought, according to a UH study with important implications for volcanic islands around the world. The extensive reservoir of freshwater within the submarine southern flank of the Hualālai aquifer was mapped by Hawaiʻi EPSCoR ʻIke Wai project researchers.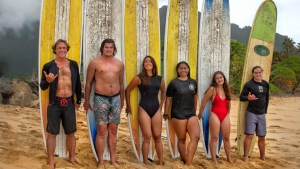 UH students surf, learn culture, earn academic credit
In the lab fieldwork portion for the Anthropology 175 Polynesian Surf Culture course, students learn the fundamentals of surfing while gaining a culture-based sense of Hawaiʻi and a recognition of the importance of the environment. "The future is very beautiful and positive. E heʻe ana kākou. Let's go surfing together."
Maunakea telescope finds hints of life on Venus
What may be the first hints of life on Venus have been discovered by using observations from the James Clerk Maxwell Telescope on Maunakea. The research team detected the gas phosphine in Venus' upper clouds; on Earth phosphine is excreted by microbes that thrive in oxygen-free environments.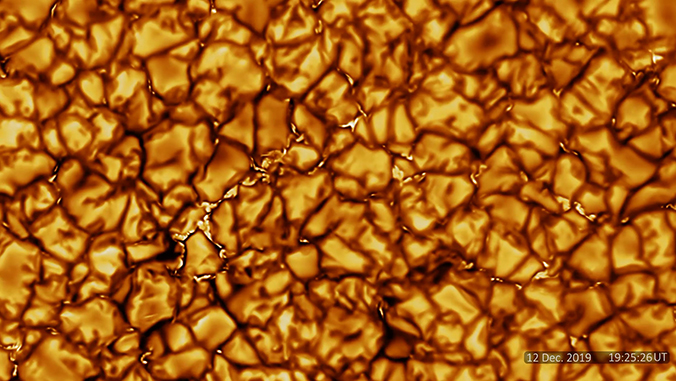 Never-before-seen images of Sun released from world's largest solar telescope
The world got the most detailed view ever of the Sun, thanks to the Daniel K. Inouye Solar Telescope on Haleakalā, Maui. The imagery showed cell-like structures the size of Texas roiling on the Sun's surface and the tiny footprints of magnetism that reach into space.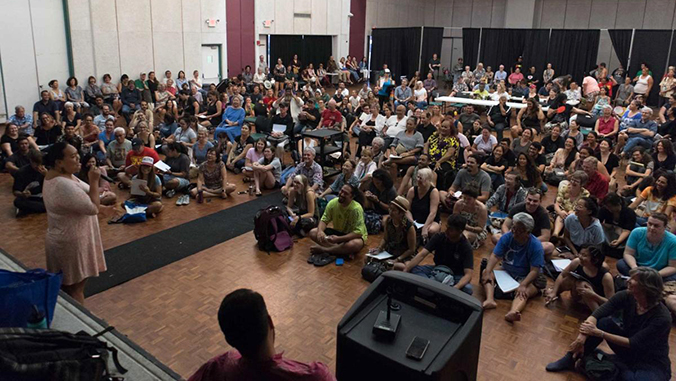 ASUH offers free ʻōlelo Hawaiʻi classes at UH Mānoa
The Associated Students of the University of Hawaiʻi, hosted free non-credit Hawaiian language classes at UH Mānoa for the community. The course was a partnership with the Hawaiʻinuiākea School of Hawaiian Knowledge, and turnout was enthusiastic and overwhelming. Classes moved online when COVID-19 closed the campus.
Mysterious monolith spotted on Mānoa campus
Mysterious monoliths have been appearing around the world since mid-November, making national and international news in a year already turned upside down by the COVID-19 pandemic. The monoliths join the mysterious monolith on the UH Mānoa campus first spotted in 1973.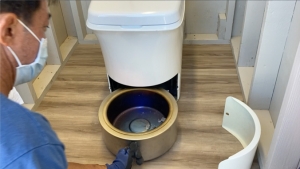 Don't flush, burn it! Incineration toilet could solve cesspool problem
The first state-of-the-art incineration toilet in Hawaiʻi that uses no water and produces no sewage is now in operation on the Moku o Loʻe (Coconut Island) in Kāneʻohe Bay at UH Mānoa's Hawaiʻi Institute of Marine Biology.
UH Mānoa in top 1% of worldwide universities
UH Mānoa is in the top 1 percent of more than 26,000 worldwide universities, according to the 2021 Times Higher Education World University Rankings released on September 2. "Our UH Mānoa community is showing its resilience and proving how important our institution is to help shape a positive future for Hawaiʻi."
The second 10 stories