Adding a TA (either scroll down through page or select from one of the following choices)
About TA's
Adding a TA
Download the Text Based Version
About TA's:
Students can be added as a TA. A student entered as a TA has the ability to assist in managing students, grade quizzes and assignments.
NOTE: the TA would NOT be registered for the course as a student, a person cannot be entered into a course as both TA and student under the same username.
Adding a TA:
Log into the course and click "Control Panel".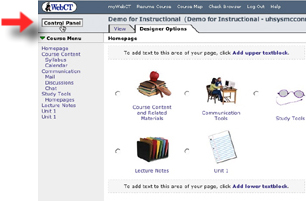 Select "Manage Course".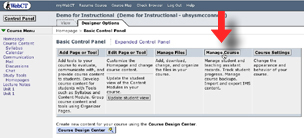 Under the header for "Manage Teaching Assistants" select the link for "Add or Import TA's".
Enter the students UH username and click the "Add" button (if you receive an error the student ID may not be listed on the server, turn in a problem report from the following URL: http://webct.hawaii.edu/webct-help/).
Return to Main Tutorial Menu