Adding a Syllabus (either scroll down through page or select from one of the following choices)
About Adding a Syllabus
Adding a Syllabus
Download the Text Based Version
About Adding a Syllabus:
Most students prefer to have a syllabus available online for them to refer to at anytime. One can add an HTML syllabus file, using the existing "Syllabus" link in the WebCT basic template.
NOTE: The Syllabus file is in HTML format, originally created in Microsoft word and saved as a Web Page (from within Word, choose "File" -> "Save as web page"). When saving Files for the Internet do not use any spaces or grammatical syntax in the file names, underscores are accepted.
Adding a Syllabus:
Using the"Course Menu" (on the left), select "Syllabus".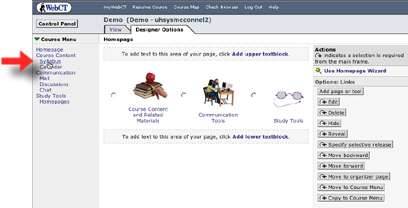 On the right in the Actions frame select the radio button for "Syllabus file".
Select "Browse".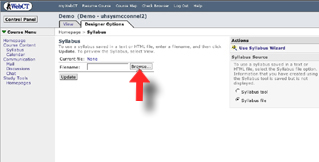 We need to upload the HTML file so click the "Browse" button once again, locate your file on the Desktop or in My Documents, click once to select and click the "Open" button.
To finalize the upload click the "Upload" button.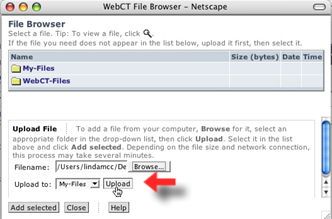 To pick the uploaded file click the "Add selected" button.
Click "Update".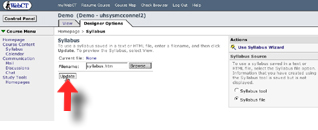 To view the uploaded file as a student, select the "View" tab.
Return to Main Tutorial Menu