Adding a URL (either scroll down through page or select from one of the following choices)
About Adding a URL
Adding a URL Tool
Download the Text Based Version
About Adding a URL:
The URL Tool allows instructors to create a link to a external Web Sites for either preparing for a lecture, test, or as a resource for a specific course unit/module.
The process of adding the URL Tool is the same no matter what type of URL or Web Site one wants to add. This tutorial illustrates how to add a URL tool to access a site that needs to be reviewed by students prior to an upcoming lecture.
Adding a URL Tool:
Select the link for "Add page or tool" anywhere you would like the URL to appear (Homepage or other course section).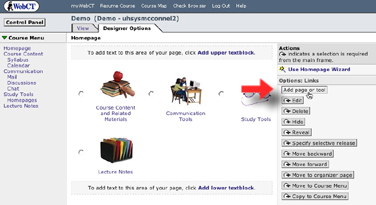 In the column for "Pages" select "URL".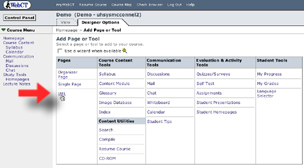 Fill out the sections, including either typing in a web page address or cut and paste an address in this section, location of the link (under the Course Menu and/or on Homepage) and click the "Add" button.
The URL has been added, click the View tab and test the newly added link.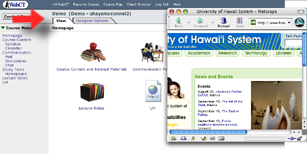 Return to Main Tutorial Menu