Importing and Uploading via Respondus - for Windows (either scroll down through page or select from one of the following choices)
About Respondus
Creating Quiz in Word
Importing into Respondus
Publishing to WebCT
Linking Quiz in WebCT
About Respondus:
Respondus is a software application that enhances the functionality and usability of WebCT's quiz, survey, and self-test tools (this application runs on Windows only). Respondus can save you hours on each assessment or survey project due to its friendly user interface.
UH Faculty/staff can download and install Respondus by going to http://www.hawaii.edu/sitelicense/ and scroll down to select "Respondus/StudyMate". *Once entered into the download site please make sure to note the necessary license information for Respondus, it is needed in order to fully install the application.
IMPORTANT: once downloaded and installed go to "Help" in the main menu, select "Check for Updates" and install. Respondus has reported multiple updates and patches, with the latest update on 07/14/07. At the time of this manual writing Respondus was at version 3.5.4.
Once updated, the program will want to close down and update, once done make sure that you are choosing the option for WebCT version 3.x/4.x when and if prompted.
Creating Quiz in Word:
In Word, write up a quiz using the following structure depending on type of question format asked (number the question, indicate the type if not multiple choice, enter distracters/choices, select correct response with an asterisk):
No Type is needed for multiple choice formatted questions
Type: P is used for Paragraph questions
Type: S is used for Short Answer
Type: MR is used for Multiple Response (more than 1 correct choice)
Type: MT is used for Matching
1. Who determined the exact speed of light?

a. Albert Einstein
*b. Albert Michelson
c. Thomas Edison
d. Guglielmo Marconi

2. Albert Michelson determined the exact speed of light?
*a. True
b. False

Type: P
3. How is the Michelson-Morley experiment related to Albert Einstein's theory of relativity?

Type: S
4. Who is knows as the "Father of television"?

a. Zworykin
b. Vladimir Zworykin
c. Vladimir Kosma Zworykin

Type: MT
5. Match the correct name to the discovery or theory:

a. Michelson-Morley = Speed of light
b. Einstein = Theory of Relativity
c. Marconi = radio waves

Type: MR
Which of the following individuals are credited with determining the exact speed of light?

a. Albert Einstein
*b. Albert Michelson
c. Thomas Edison
*d. Edward Williams Morley
Once done with writing up the quiz, from the File menu in Word select "Save as". Select to save the file as "Text Only (*.txt)." and click "Save".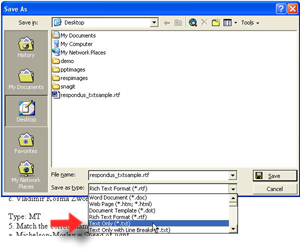 Word will prompt that all formatting will be lost, click "Yes".
Importing into Respondus:
Open Respondus, make sure all license information has been entered and all updates have been installed (do a "check for update" via the "Help" menu).
On the Start tab select the button for "Import Questions".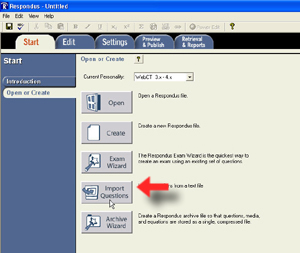 For "File name" select the "Browse" button.
Locate the saved text quiz file, click once to select and click the "Open" button.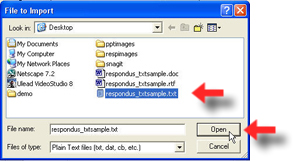 Confirm the radio button for "Create a new document, named:" is selected, enter a name for the file and click the "Preview" button.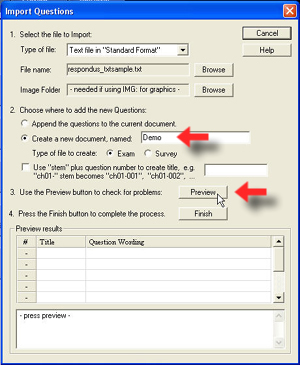 Verify that there are "NO Warnings" (if a warning is provided such as "there are no answers for questions 2, 3, 4, 5..." then cancel and make sure the Word file is correctly structured then import again), click "Finish" when done.
NOTE: warnings such as having same named questions is alright, proceed to select "Finish".
Click OK, Respondus saves this file within the program and it can be accessed again at any time.
If needed questions can be modified by selecting the title of the question below in the "Questions Lists", then choose "Modify" or even added by choosing question type on the left in the blue menu and using the template, click "Add to end of list" when done.
Proceed to the the "Settings" tab when done.
Quiz settings have many features such as Basic & Availability, Security & Submissions and Results. Go with the default settings or enter information for specific release times and options.
Click on the button for "Basic & Availability".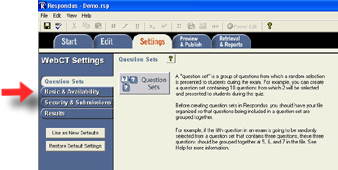 To allow students to take a quiz immediately, under the header for Availability select the checkbox for "Allow access as soon as the quiz is published" (alternatively one could type in month/day/year and hour/minutes for future access days and times).
Click the button for "Results" when done.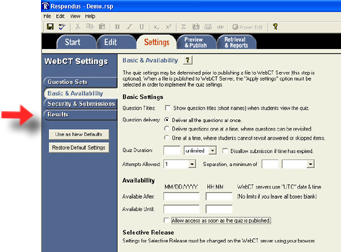 Select the radio button for "Release the score once the quiz has been submitted AND all the question shave been graded" for student to automatically view results and select the checkbox for "Yes" under the section for "Release columns".
Publishing to WebCT:
Proceed to the "Preview & Publish" tab.
To begin the upload to WebCT process select the button for "Publish to WebCT".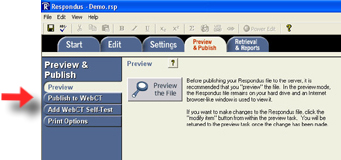 Select the button for "Publish Wizard".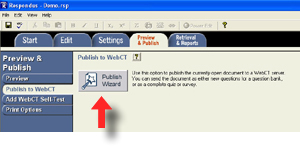 Leave #1 at the default and use the pull down menu for #2 to choose "add new server"
Leave the setting at the default for "Yes, check for preconfigured server settings" and click "Next>".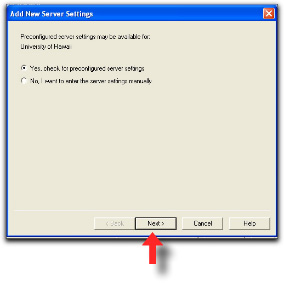 Select whether you want to upload to your WebCT courses on the Development or Instructional server, click OK, then choose "Next>"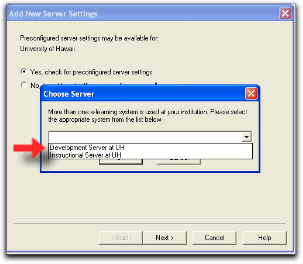 First enter a title for this connection (Instructional or Developmental); second enter your UH username and password (you MUST choose the checkbox for saving this log in information); third choose to either "Run connection test" OR "Skip connection test" and click "Next>"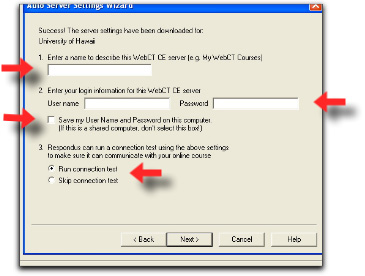 **If you choose to "Run connection test" WebCT will indicate whether the connection completed successfuly or failed. If the connection failed please contact mcconnel@hawaii.edu. Click "Next>" if it indicates that the connection is successful.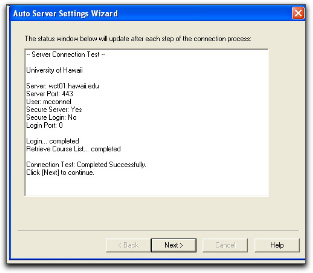 Click "Finish"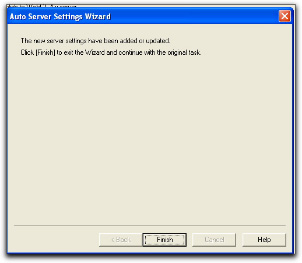 Click "Next>"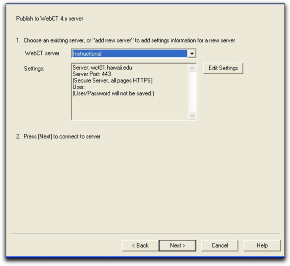 **If you had NOT choosen to save your log in information a few steps back, WebCT will now ask you for that information; Enter your UH username and password, click OK.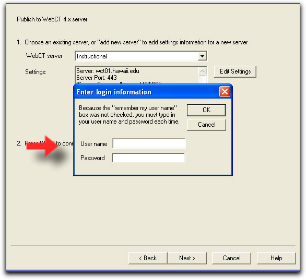 Click the "Next>" button .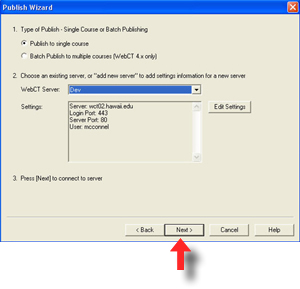 #1 - use the pull down menu for "Select Course to publish to:" and choose a course (NOTE: if you an error or prompt indicating " no categories have been created" click "OK" and proceed to #2)
#2 - leave at the default
#3 - in the text block for "Create new quiz", enter a title for this quiz and click "Next>"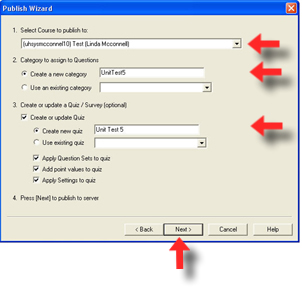 Respondus shows publishing steps, when "Completed successfully", select "Finish".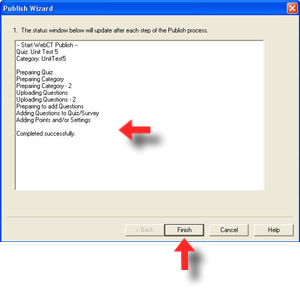 Linking Quiz in WebCT:
Exit Respondus, log into course. Select to add the quiz, click the button for "Add page or tool" from any area in the course.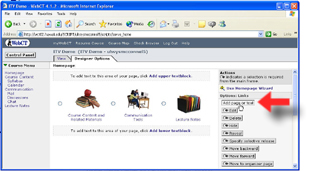 Select "Quizzes/Surveys".
Enter a title, select the location for the link (on Course Menu and/or on Organizer page) and click "Add".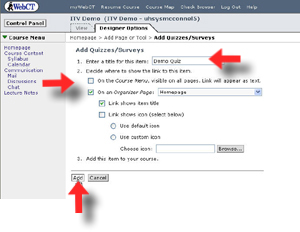 Select the radio button next to the newly added quiz link, on the right select the "Edit" button.
Under the header for "Quiz listings" click the "Select" button.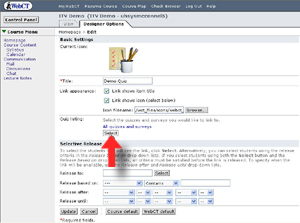 Check the box next to the uploaded quiz and click "Continue".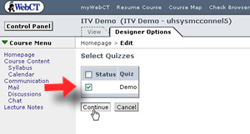 Click "Update" when done.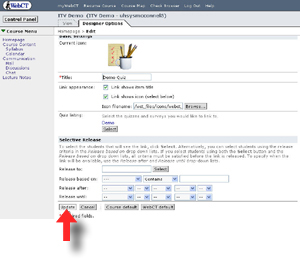 The Quiz is now available for students.
Return to Main Tutorial Menu