The ISS Orientation consists of (1) Visa Clearance, (2) The Welcome Orientation, and (3) Welcome Week Activities. Visa Clearance is required for all new students. The Welcome and Welcome Week Activities are optional, but you are highly encouraged to participate and get the chance to meet other international students and the ISS staff before school starts.
Visa Clearance, required of all new international students, introduces you to the general rules of your visa status and verifies your immigration documents upon arrival in the U.S. All new incoming students must complete Visa Clearance. Most of Visa Clearance can be completed online (before you even arrive in Hawai'i).
If you do not complete Visa Clearance, your record will have a registration hold from ISS that takes effect on the first day of the semester. This hold prevents you from adding and dropping classes.
Go to the Visa Clearance section below and follow the steps to complete.
What is the Welcome Orientation?
The Welcome Orientation ("The Welcome") is a full afternoon introducing you to International Student Services staff, student resources, cultural and safety issues, clubs and activities, and most of all, other students. The day ends with a reception of food and other refreshments. Here you may meet new students like yourself and make new friends from all over the world. Sign up now for The Welcome.
What are the Welcome Week activities?
During the week prior to the start of the semester, ISS provides workshops on specific topics that may be valuable to new students. Also, the morning Coffee Socials are opportunities to relax and have some coffee or tea before the start of the day, perhaps meet other students. These events are optional and do not require sign-up.
Available Workshop Slides
Visa Clearance (Required)
1. To start Visa Clearance, you must have a UH account.
A UH username is needed to access the Visa Clearance session. Apply to get a UH username now. You will need your UH ID number provided to you on your admission letter.
2. You must know your visa type.
3. Watch video on visa regulations.
4. Pass the Visa Clearance Quiz and Print Certificate.
Take the Visa Clearance Quiz. You must log in with your UH username and password.
(NOTE: Use the link provided above. You cannot access Visa Clearance if you use the regular Laulima URL.)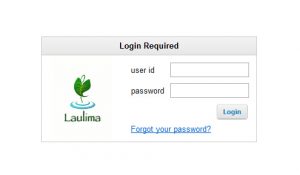 (Note: Please make sure that you are logged into your hawaii.edu account when clicking the link to the Visa Clearance quiz. You may need to log out of all your google accounts, including the hawaii.edu account, and re-login to your hawaii.edu account to make it work.)
After the login screen, you may see a pop-up window that says you are not a member, and if you want to join the site; click "yes."

After the login screen, click "Begin" under the quiz for your visa type (J-1 or F-1). Follow the directions.
Once you pass with a 10/10 score, download the certificate.
5. Sign Up to Drop Off Immigration Documents
(Also known as a Visa Clearance Session)
When you arrive in the U.S., you must report to the International Student Services Office and drop off your immigration documents for verification.
Sign up for a time to drop off your documents. You will need to log in with your UH username and password. NOTE: UH uses a Gmail server. If you are already logged into a personal Gmail account, you may need to log out in order to log into this form.
J-1 students need to bring: (1) passport, (2) visa, (3) DS-2019, (4) J-1 Health Insurance Provider Certification form, (5) J-1 Visa Clearance Certificate
F-1 students need to bring: (1) passport, (2) visa, (3) I-20, (4) F-1 Visa Clearance Certificate
The ISS Office will check and copy your documents, and you may pick them up in the afternoon between 1 and 3 pm.
Check the UHM Map to see where we are on campus. From the pull-down menu, select "Queen Liliuokalani Center (QLC)."
6. Enter U.S. address, phone number, and email
To complete Visa Clearance, you need provide:
U.S. address where you will be staying. This may be a hotel or other temporary lodging.
U.S. phone number. This can be your hotel/lodging number, dormitory number, personal number, or any other number at which you may be contacted. It must be a U.S. number.
**If you do not yet know this information, you can enter it after your arrival, but before reporting to ISS.
We need this information to "activate" your immigration record. You may update the information when it changes.
Go to MyUH to enter this information. Follow the guide below.
After logging in, go to the "Personal Information" tab and select "View/Update My Address(es) and Phone(s)."
Click on "Current" to change your current address.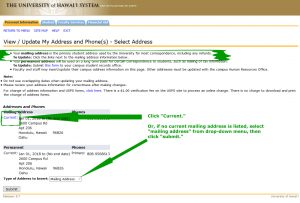 Enter your address and phone number in the boxes in the correct format.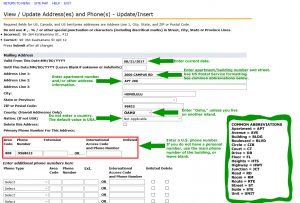 When you are finished, click "Submit" at the bottom of the page.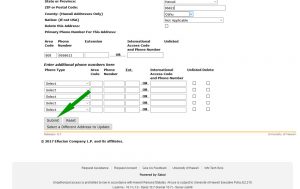 7. Complete Visa Clearance
Congratulations!
If you did all of the above, you have completed Visa Clearance.
After your documents have been recorded through the Visa Clearance Session, ISS will remove its hold on your registration that would take effect at the beginning of the semester. Please check with other offices that may still have holds on your registration.
The Welcome Week Spring 2020 (January 6-10)
Description of Activities
| ACTIVITY | DESCRIPTION |
| --- | --- |
| Coffee Social | Have some fresh coffee, tea and snacks to start your morning. Take this opportunity to meet other students and staff in an informal setting. Also offered during all the sessions and at mid-day. |
| Tips for Living in Hawai'i | Learn about where to shop, how to save money, local secrets, and many other things you should know to liv in Hawai'i. |
| Healthy and Smart Start to Good Grades | Come learn about how to apply valuable study skills to your coursework, and all the services you can use for academic success. |
| Taxes | Whether you are receiving income or not, international students still need to be aware of the U.S. tax system. Find out what you need to know and where to find the answers. |
| F-1 Employment | Learn about common employment types related to F-1 students and how to strategize your academic path toward career goals. |
| J-1 Employment | Learn about common J-1 employment types and the processes and limits. |
| Social Security Numbers,, Driver Licenses, and State IDs | Learn the procedures for getting a Social Security Number, Hawai'i driver license or state ID. |
| Manoa International Exchange (MIX) Check-In Session | This is only for students on exchange programs coordinated by the MIX Office. If you are MIX student, you must attend one session. RSVP required. |
| The Welcome Orientation | An afternoon welcoming students and providing information on campus resources as well as opportunities to meet other international students in structured activities. A reception to follow. RSVP required. |
NOTE: Sessions may be added, changed, or removed at any time.
| | Monday (1/06) | Tuesday (1/07) | Wednesday (1/08) | Thursday (1/09) | Friday (1/10) |
| --- | --- | --- | --- | --- | --- |
| | To be announced | To be announced | To be announced | To be announced | To be announced |
Sessions to be announced at a later date. Please check back in December.