NOTICE: Visa Clearance is completely online. There will be no "in-person" check-in. To ensure the safety and well-being of students and staff, ISS will be following federal, state, local and university Covid-19 guidelines for social distancing and remote operations during this period.
Visa Clearance, required of all new international students to the UH Manoa System, introduces you to the general rules of your visa status and verifies your immigration documents upon arrival in the U.S. All new incoming students must complete Visa Clearance. Most of Visa Clearance can be completed online (before you even arrive in Hawai'i).
If you do not complete Visa Clearance, your record will have a registration hold from ISS that takes effect on the first day of the semester. This hold prevents you from adding and dropping classes.
The Visa Clearance Process (Steps 1 to 7 Required)
A UH username is needed to access the Visa Clearance session. Apply to get a UH username now. You will need your UH ID number provided to you on your admission letter.
Make sure to log out of all Google and hawaii.edu accounts, then click the link to the Visa Clearance quiz.
Take the Visa Clearance Quiz. You must log in with your UH username and password.
(NOTE: Use the link provided above. You cannot access Visa Clearance if you use the regular Laulima URL.)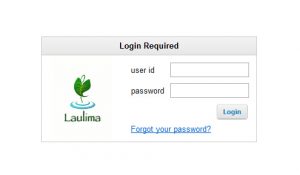 After the login screen, you may see a pop-up window that says you are not a member, and if you want to join the site; click "yes."

After the login screen, click "Begin" under the quiz for your visa type (J-1 or F-1). Follow the directions.
Once you pass with a 10/10 score, download the certificate and save it to your computer or mobile device.
If you do not get the certificate on first completing your quiz, please review the quiz in Laulima to see the option for a certificate.
A copy of your certificate is used as proof that you have passed and is required for the submission step below.
When you arrive in the U.S., you must report to the International Student Services Office online.
Sign in for immigration document verification online. You will need to log in with your UH username and password.
NOTE: UH uses a Gmail server. If you are already logged into a personal Gmail account, you may encounter an error page. You must log out of your personal Gmail account, and then reload the page and log in with your UH username.
J-1 students need to upload copies of: (1) passport, (2) visa, (3) J-1 Visa Clearance Quiz Certificate, (4) Latest port of entry stamp into the U.S., (5) signed DS-2019, (6) J-1 Health Insurance Provider Certification form
F-1 students need to upload copies of: (1) passport, (2) visa, (3) F-1 Visa Clearance Quiz Certificate, (4) Latest port of entry stamp into the U.S., (5) signed I-20
Follow the directions on the sign-in page on how to upload your documents AND submit a request for verification.
Students with a Visa Clearance Hold on their UH account are required to complete this portion in order to have the "Visa Clearance Hold" removed.
To complete Visa Clearance, you need provide:
U.S. address where you will be staying. This may be a hotel or other temporary lodging.
U.S. phone number. This can be your hotel/lodging number, dormitory number, personal number, or any other number at which you may be contacted. It must be a U.S. number.
**If you do not yet know this information, you can enter it after your arrival, but before reporting to ISS.
We need this information to "activate" your immigration record. You may update the information when it changes.
Go to MyUH to enter this information. Follow the guide below.
After logging in, go to the "Personal Information" tab and select "View/Update My Address(es) and Phone(s)."
Click on "Current" to change your current address.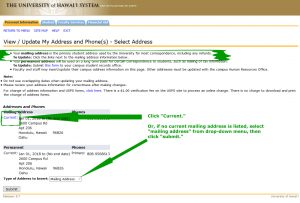 Enter your address and phone number in the boxes in the correct format.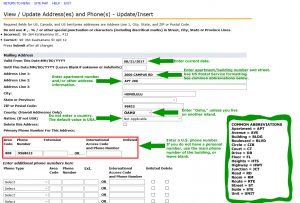 When you are finished, click "Submit" at the bottom of the page.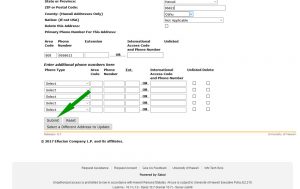 Congratulations!
If you did all of the above, you have completed Visa Clearance.
After your documents have been recorded through the Visa Clearance Session, ISS will remove its hold on your registration that would take effect at the beginning of the semester. Please check with other offices that may still have holds on your registration.