UH Manoa Chancellor's Award for Outstanding Service
Service Award Winner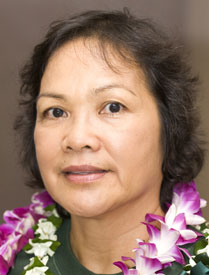 Delia Gumayagay
Delia Gumayagay has 19 years of service at UH Manoa and currently serves as a janitor assigned to various areas including Sinclair Library.
Described as an "absolute gem," she works around staff schedules to minimize disruption, and meticulously strives to keep offices exceptionally spotless. Her special touches and conscientious way of keeping team members aware of safety issues, as well as cleaning areas from top to bottom and making surfaces sparkle, ensure that the staff's has a safe and productive work environment.
Gumayagay's genuine spirit of aloha, and her cheerful, positive attitude, are reflective in how she works and interacts with those around her.
The University of Hawai'i at Manoa Chancellor's Award for Outstanding Service honors Manoa staff members who demonstrate outstanding work performance, service and leadership. Criteria include record of competence and efficiency, exceptional contribution in the attainment of program objectives, creative solutions to difficult problems, integrity and dedication to the mission of a program.
Select a recipient for more about that individual.