UH Manoa Chancellor's Award for Outstanding Service
Service Award Winner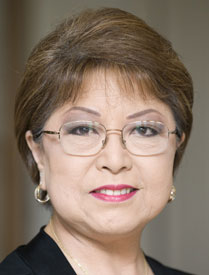 Amelene Higashionna
Amelene Higashionna is an office assistant with UH Manoa's Office of International Student Services and has been with the campus for more than four years.
ISS provides immigration advising and cross-cultural support to approximately 1,700 international students annually. Recognizing the immense responsibility, Higashionna diligently addresses the quality and speed of services to students, making sure that they are not compromised by changes in immigration law. She monitors requirements, and continuously safeguards processing efforts, improves efficiencies and creates solutions to issues and challenges.
Described as the "center of navigation, the core processor, (and) the heart of the ISS office," she was instrumental in assisting the office in preparing for and maintaining compliance with new regulations and procedures issued by the Department of Homeland Security.
The University of Hawai'i at Manoa Chancellor's Award for Outstanding Service honors Manoa staff members who demonstrate outstanding work performance, service and leadership. Criteria include record of competence and efficiency, exceptional contribution in the attainment of program objectives, creative solutions to difficult problems, integrity and dedication to the mission of a program.
Select a recipient for more about that individual.