UH Manoa Chancellor's Award for Outstanding Service
Service Award Winner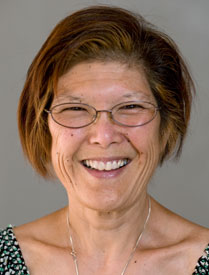 Gwen Nakamura
Gwen Nakamura is the assistant band director and also serves as assistant director of the marching band and director of the concert band for the Music Department and Department of Intercollegiate Athletics.
Working at Manoa for more 18 years, the dedicated teacher writes shows for the marching band and serves as conductor of the pep band. She imparts values to students such as teamwork, self-discipline, personal accountability and showmanship.
Nakamura's dedication to the university, and its athletics programs, has prompted some to recognize her as the Warriors' No. 1 fan, as she enthusiastically energizes band and audience members with her dance moves, tambourine playing and game attire, including her signature balloon hat.
The University of Hawai'i at Manoa Chancellor's Award for Outstanding Service honors Manoa staff members who demonstrate outstanding work performance, service and leadership. Criteria include record of competence and efficiency, exceptional contribution in the attainment of program objectives, creative solutions to difficult problems, integrity and dedication to the mission of a program.
Select a recipient for more about that individual.