Frances Davis Award for Excellence in Undergraduate Teaching
Davis Award Winner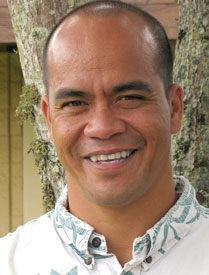 Kimo Chun
Kaua'i
Kimo Chun, an instructor in the Native Hawaiian education program, tries to empower students to believe in themselves and provide them with tools for a successful life.
He sees his philosophy embodied in a simple 'olelo no'eau (wise saying): I ha'aheo no ka lawai'a i ka lako i ka 'upena - "The fisherman may well be proud when well supplied with nets." In other words, "good tools help the worker to succeed." Chun's students laud his "dedication, pride and boundless aloha spirit."
The Frances Davis Award for Excellence in Undergraduate Teaching recognizes dedication and demonstrated excellence as teachers of undergraduate students. It was established as a memorial to the late Frances Davis, who taught mathematics at Leeward Community College and UH Manoa for 19 years.
Select a recipient for more about that individual or view winners from 2002-2006.
2011
2010
2009
2008
2007
Past winners from 2002-2006.