Frances Davis Award for Excellence in Undergraduate Teaching
Davis Award Winner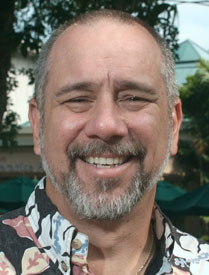 Michael DeMattos
Manoa
Michael DeMattos, an educational specialist in the School of Social Work, has made an outstanding impact on the bachelor of social work program by helping students develop personal awareness and insight that enable them to approach learning in a more meaningful way.
His vibrancy and creativity make his lessons exciting, informative, fun and memorable. A student wrote, "DeMattos quickly turned my insecurities around. Through his strength-based teaching style, he taught me how to focus on what was attainable."
The Frances Davis Award for Excellence in Undergraduate Teaching recognizes dedication and demonstrated excellence as teachers of undergraduate students. It was established as a memorial to the late Frances Davis, who taught mathematics at Leeward Community College and UH Manoa for 19 years.
Select a recipient for more about that individual or view winners from 2002-2006.
2011
2010
2009
2008
2007
Past winners from 2002-2006.