Frances Davis Award for Excellence in Undergraduate Teaching
Davis Award Winner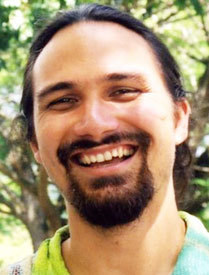 Kelikokauaikekai Hoe
Windward
Kelikokauaikekai Hoe is an assistant professor in Hawaiian Studies at Windward Community College. Hoe conducts his classes in the spirit of traditional Hawaiian culture and has been a leader in creating opportunities for Native Hawaiian students in Windward O'ahu.
Hoe has experience in lo'i restoration, creation of hula instruments, and writing and performing in Hawaiian language plays. He has introduced courses in Hawaiian mythology and religion and revived the Polynesian voyaging and seamanship classes. Hoe has been an integral part of Windward's Achieving the Dream Team and Ke Kumu Pali, the campus group that coordinates Hawaiian culture programs and activities at the college.
The Frances Davis Award for Excellence in Undergraduate Teaching recognizes dedication and demonstrated excellence as teachers of undergraduate students. It was established as a memorial to the late Frances Davis, who taught mathematics at Leeward Community College and UH Manoa for 19 years.
Select a recipient for more about that individual or view winners from 2002-2006.
2011
2010
2009
2008
2007
Past winners from 2002-2006.