Frances Davis Award for Excellence in Undergraduate Teaching
Davis Award Winner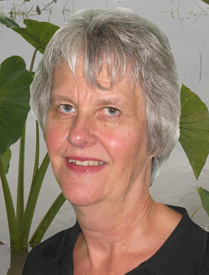 Mary Kay Tanka
Kaua'i
Mary Kay Tanka is a nursing instructor at Kaua'i Community College. She is an expert professional nurse, inspiring and caring instructor and a trusted and respected colleague.
Tanka encourages students to develop and take ownership of their nursing practice and to become lifelong learners as they grow in their profession and in their personal lives. Along with her positive attitude, she brings her knowledge, experience and insight into the classroom in a way that makes her students eager to learn more and inspires them to do their best and work together.
Tanka is an excellent instructor, mentor and friend, and her dedication to the education of professional nurses is exemplary.
The Frances Davis Award for Excellence in Undergraduate Teaching recognizes dedication and demonstrated excellence as teachers of undergraduate students. It was established as a memorial to the late Frances Davis, who taught mathematics at Leeward Community College and UH Manoa for 19 years.
Select a recipient for more about that individual or view winners from 2002-2006.
2011
2010
2009
2008
2007
Past winners from 2002-2006.