Frances Davis Award for Excellence in Undergraduate Teaching
Davis Award Winner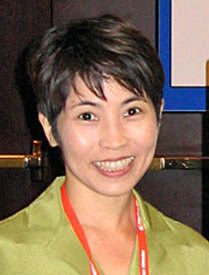 Donna Matsumoto
Leeward
Donna Matsumoto is an assistant professor of English at Leeward Community College. Matsumoto teaches each student according to their specific needs and has been successful at making writing relevant to their lives.
She co-founded the Mid-Semester Classroom Assessment Program and the Teaching Squares Program that provide students and colleagues in other disciplines useful feedback in order to increase their performance levels. In 2005, her writing expository course was recognized as a WebCT Exemplary Course Project.
A colleague wrote, "Students learn more than how to write in Donna's classes; they learn how to take responsibility for their own actions."
The Frances Davis Award for Excellence in Undergraduate Teaching recognizes dedication and demonstrated excellence as teachers of undergraduate students. It was established as a memorial to the late Frances Davis, who taught mathematics at Leeward Community College and UH Manoa for 19 years.
Select a recipient for more about that individual or view winners from 2002-2006.
2011
2010
2009
2008
2007
Past winners from 2002-2006.