Frances Davis Award for Excellence in Undergraduate Teaching
Davis Award Winner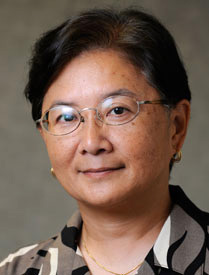 Tomoko Iwai
Manoa
Tomoko Iwai is an instructor in the Department of East Asian Languages and Literatures at Manoa. She is a natural, truly gifted teacher with the ability to instruct, engage and motivate students to high levels of achievement.
The successes of her students in language skills are credited to an exceptional rapport with them. Her teaching practices enable learners to co-construct their foreign language persona and identity, and to grasp intercultural situations in order to navigate their way in the global community.
In her teaching and her research, Iwai's scholarly contributions are highly innovative and effective.
The Frances Davis Award for Excellence in Undergraduate Teaching recognizes dedication and demonstrated excellence as teachers of undergraduate students. It was established as a memorial to the late Frances Davis, who taught mathematics at Leeward Community College and UH Manoa for 19 years.
Select a recipient for more about that individual or view winners from 2002-2006.
2011
2010
2009
2008
2007
Past winners from 2002-2006.