UH Manoa Chancellor's Citation for Meritorious Teaching
Manoa's Meritorious Teachers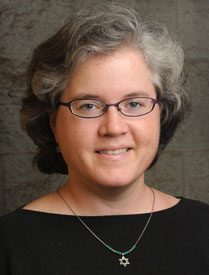 Kate Lingley
Art and Art History
Lingley is an assistant professor of art history in the Department of Art and Art History and is recognized for her expertise in Chinese art.
She teaches courses on early art of China, modern and contemporary art of China, Chinese sculpture and applied arts, traditional Chinese painting and tomb sculpture and funerary art.
To help the department's students succeed, Lingley took it upon herself to develop an undergraduate art history list serve that disseminates news about jobs, internships and scholarships. The list serve allows the program to keep track of students and keep them better informed about valuable opportunities that arise.
The University of Hawai'i at Manoa Chancellor's Citation for Meritorious Teaching recognizes Manoa faculty members who have made significant contributions to teaching and student learning.
Select a recipient for more about that individual or view winners from 2002–2006.
2011
2010
2009

Kate Lingley
Art and Art History

Lois Magnussen
Nursing
2008
2007