UH Manoa Chancellor's Citation for Meritorious Teaching
Manoa's Meritorious Teachers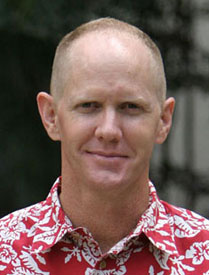 Joel Moffett
Art and Art History
Joel Moffett is an assistant professor in the Academy for Creative Media. As a teacher of art, Moffett has enormous respect for the creative process and encourages students to take risks, experiment and explore.
His aim in teaching is to develop students' understanding of specific artistic principles and cultivate their ability to apply these lessons to their film work.
Spurred by both his commitment to building a film school and his focus on screenwriting, Moffett has created a number of filmmaker initiatives to help nurture underrepresented voices within the student community. He established the internship program for the Lost television set that allowed students to participate in a 16-week program to learn about the local film industry.
Moffett won the Best Short Film award at the 2008 London Independent Film Festival for his film Horsepower and the Award of Merit for a short film, Poi Dogs.
The University of Hawai'i at Manoa Chancellor's Citation for Meritorious Teaching recognizes Manoa faculty members who have made significant contributions to teaching and student learning.
Select a recipient for more about that individual or view winners from 2002–2006.
2011
2010
2009

Kate Lingley
Art and Art History

Lois Magnussen
Nursing
2008
2007