UH Manoa Chancellor's Citation for Meritorious Teaching
Manoa's Meritorious Teachers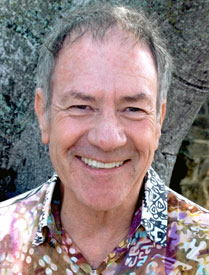 Gregg Lizenbery
Department of Theatre And Dance
A professor of theatre and dance at Manoa since 1991, Gregg Lizenbery believes his effectiveness as a teacher is partially due to his consistent involvement in the current dance scene, and he strives to maintain a complementary fusion of teaching and professional activity.
A highly regarded dancer, choreographer, artistic director and educator for more than 40 years, Lizenbery sees his role as a "catalyst and guide; one who encourages students to listen, see, think, intuit, analyze and push towards the discovery of themselves and the intricacies of their art form."
The University of Hawai'i at Manoa Chancellor's Citation for Meritorious Teaching recognizes Manoa faculty members who have made significant contributions to teaching and student learning.
Select a recipient for more about that individual or view winners from 2002–2006.
2011
2010
2009

Kate Lingley
Art and Art History

Lois Magnussen
Nursing
2008
2007