UH Manoa Chancellor's Citation for Meritorious Teaching
Manoa's Meritorious Teachers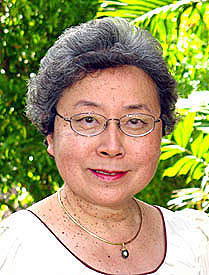 Janet Uyehara
School of Nursing and Dental Hygiene
An assistant professor of nursing, Janet Uyehara nurtures her students in the clinical setting as well as in the classroom.
Over the past 30 years, Uyehara has taught didactic and clinical courses in the area of obstetrics and newborn care. Her lectures are dynamic and include personal anecdotes from her clinical experience to help students understand the material presented. She was influential in developing an innovative teaching opportunity, the Childbearing Teaching Project, where students study and gather information on pregnant clients.
A student wrote that Uyehara provided strong academic and clinical knowledge. She also stressed the importance of sensitivity and compassion, which are essential in the nursing profession.
The University of Hawai'i at Manoa Chancellor's Citation for Meritorious Teaching recognizes Manoa faculty members who have made significant contributions to teaching and student learning.
Select a recipient for more about that individual or view winners from 2002–2006.
2011
2010
2009

Kate Lingley
Art and Art History

Lois Magnussen
Nursing
2008
2007