UH Manoa Chancellor's Citation for Meritorious Teaching
Manoa's Meritorious Teachers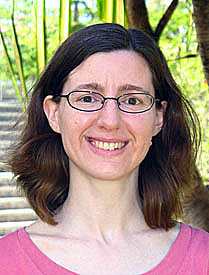 Amy Schafer
Department of Linguistics
Amy Schafer is an associate professor of linguistics. Schafer encourages students to thrive in class and to achieve an analytical understanding of the material.
Her classes involve significant integration of course concepts with hands-on professional activities. Schafer played a central role in establishing the language analysis and experimentation labs and introduced a series of new courses on psycholinguistics into the curriculum. She also created the Linguistics Beyond the Classroom program, in which undergraduate students focus on current linguistic research as part of their coursework.
A colleague observed that Schafer "embodies the type of researcher-teacher whose contributions we should hold up as an exemplary model for a research university."
The University of Hawai'i at Manoa Chancellor's Citation for Meritorious Teaching recognizes Manoa faculty members who have made significant contributions to teaching and student learning.
Select a recipient for more about that individual or view winners from 2002–2006.
2011
2010
2009

Kate Lingley
Art and Art History

Lois Magnussen
Nursing
2008
2007