UH Manoa Chancellor's Citation for Meritorious Teaching
Manoa's Meritorious Teachers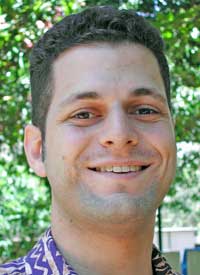 Michael Nassir
Physics and Astronomy
Michael Nassir is an instructor in Department of Physics and Astronomy. Nassir believes that by demonstrating to his students the relevance and ubiquity of physics in their daily lives, engagement and interest will follow naturally.
His workload duties have steadily expanded during the past nine years, and now includes three to four physics and astronomy courses each semester, plus physics lab supervision, astronomy lab coordination, lecture-demonstration improvement, undergraduate physics-major advising, student professional club advising and service on both campus and departmental committees.
Nassir serves as a member of the Faculty Senate's General Education Committee and provides analytical skills in dealing with trends in student behavior and improving undergraduate education.
The University of Hawai'i at Manoa Chancellor's Citation for Meritorious Teaching recognizes Manoa faculty members who have made significant contributions to teaching and student learning.
Select a recipient for more about that individual or view winners from 2002–2006.
2011
2010
2009

Kate Lingley
Art and Art History

Lois Magnussen
Nursing
2008
2007