Hung Wo and Elizabeth Lau Ching Foundation Award for Faculty Service to the Community
Service Award Winner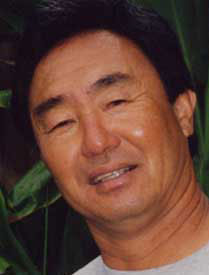 Ralph Kouchi

Ralph Kouchi, a Kaua'i Community College faculty member since 1977, impresses by the number and sheer enormity of the tasks he undertakes. The Honolulu Community College graduate has worked with disadvantaged high school students during summer breaks. He has been involved in volunteer efforts with the Menehune Fish Pond and worked with students from Ni'ihau. He coordinated construction of the greenhouse on the Kaua'i campus and helped build the solar car that won the college national recognition.
Probably his most notable work in recent years was coordinating construction of a building for joint campus and county use. The state's chief election officer approached Kouchi about constructing a building on campus for use by the election officials as a central headquarters. The building would be available for college use in non-election years. Kouchi quickly volunteered, knowing the value of such a project to the community. He coordinated all the construction work, a two-year project. Working with county agencies and labor organizations, he helped raise funds, recruited manpower and secured donations of construction materials. Kouchi even started up the barbecue to feed Kaua'i Community Correctional Center inmates who volunteered as laborers.
According to colleagues, Kouchi's efforts have strengthened ties between Kaua'i Community College and the community. Many agencies and organizations come to Kouchi for volunteer assistance. His willingness to help builds very positive relationships with the Kaua'i community.
The Hung Wo and Elizabeth Lau Ching Foundation Award has honored faculty members for significant contributions that strengthen ties between the University of Hawai'i and the community.
Select a recipient for more about that individual.
2008
2007

Roy Kamida
Leeward
2006
2005
2004
2003
2002